Main Content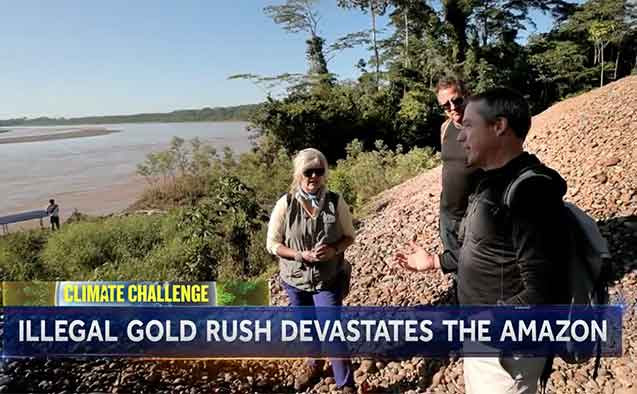 FEATURED NEWS
Amazon Rainforest severely impacted by gold mining
By Cynthia McFadden | NBC Nightly News
The Amazon Rainforest's biodiversity impacts weather patterns, crop growth and carbon levels around the world. However, gold mining in the area is having a devastating ecological effect. Wake Forest's Center for Energy, Environment and Sustainability (CEES) and Center for Amazonian Scientific Innovation (CINCIA) are featured in NBC's report. Interviews with Andrew Sabin Presidential Chair in Conservation Biology Miles Silman and Director of CINCIA Luis Fernandez highlight the environmental and human challenges. – 9/20/2022
NATIONAL & INTERNATIONAL
These maps show which parts of the US are already having a green energy jobs boom
By Madison Hoff | Business Insider
Economist Mark Curtis told Insider that one main result based on the job posting data he and his co-author used in their research is: "that the jobs that are being created are largely in areas that currently have high fossil fuel employment." He added that this suggests "that this is going to make the transition from a fossil fuel-based energy economy to a renewables-based economy smoother than it otherwise would've been." – 9/23/2022
Why some college students agree to endure hazing
By Dr. Phil | Yahoo Entertainment: Dr. Phil
Law professor Gregory Parks, a nationally known expert on the psychology of hazing, joins Dr. Phil on Wednesday's episode, "Deadly Brotherhood: The Fight to Stop College Hazing," and shares four factors that motivate college students to join fraternities and sororities. – 9/24/2022
Wake Forest School of Business launches hybrid MBA program
Poets & Quants
Wake Forest's part-time MBA Charlotte Saturday program will transition to a hybrid option, providing a range of MBA format options, including in-person and online. "Incorporating this new format into our MBA program portfolio creates a flexible program option that allows working professionals to pursue a rigorous program while maintaining their professional and personal commitments," said Dean of the School of Business Annette L. Ranft. – 9/21/2022
The announcement was also featured in the Triad Business Journal.
12 helpful things to say to a depressed friend
By Georgina Berbari | MindBodyGreen
Counseling professor and mental health expert Allison Forti's expertise is featured in these suggestions. She advises to avoid suggesting to a person who is depressed that their thoughts, feelings and behaviors are not valid or can easily change. "They need empathy, compassion and support. Validating their experience by not sugar coating their pain and recognizing what is happening is a good first step." – 9/24/2022
For woodpeckers, dropping beats could be the same as singing
By Laura Baisas | Popular Science
The steady tapping of a woodpecker as it drills into a tree for food or a nest site and drums to attract a mate is an unmistakable sound. A team of researchers led by Eric Schuppe at Wake Forest and Matthew Fuxjager at Brown University has found regions in the woodpecker forebrain which have previously only been associated with both vocal learning in animals and language in humans. – 9/20/2022
20% of Americans believe it's worth going into debt to get the new iPhone 14
By Alex Luckey | KLUV-FM (Dallas, TX)
Marketing professor Michelle D. Steward said, "During the pandemic, we saw that some consumers paused purchases given the uncertain times and, for many, reduced income. As we move out of the pandemic, those consumers are revisiting whether their current versions of products across categories may need to be upgraded or repaired." – 9/23/2022
Heritage Auctions' October event spans centuries of Black American history
ArtDaily Newspaper
As Wake Forest University's ZSR Library notes in its thorough history of Phillis Wheatley's collection, "Reviewers invariably remarked on the unusual circumstance of an African slave writing serious literature, and several specifically pointed out the implications for the slavery debate." – 9/25/2022
The British monarchy is better for taxpayers than you might think
By Emma Camp | Reason
"Twenty-five percent, more or less, is withheld to finance the royal family's expenses, but they also have other sources of revenue," said politics professor Mark Vail. "But the lion's share comes from those returns." – 9/20/2022
The 53 Most Beautiful Colleges in America
By Stefanie Waldek | Architectural Digest
Wake Forest University is named to Architectural Digest's list of the "53 Most Beautiful Colleges in America." – 9/20/2022
Countries consider breaking from British crown now Elizabeth's reign is over
By Michael Collins | USA Today
"Her absence, combined with recent developments in British politics, gives these countries certainly an opening, even perhaps an impetus, to start thinking about breaking away," said British politics expert Mark Vail. "I think the noises that have been made by certain countries (to break from the crown) are just the beginning." – 9/19/2022
REGIONAL & TRADE
Special hiring power boosts EPA infrastructure, regional teams
By Kevin Bogardus | E&E News
Stan Meiburg, who served 39 years at EPA, said it has been common practice at EPA to give the regional administrators each an AD hire. "They generally use them for a regional administrator or an assistant administrator to have someone in their immediate vicinity who meets their needs within the organization," said Meiburg, now the executive director of Wake Forest's Center for Energy, Environment and Sustainability at Wake Forest. – 9/22/2022
LOCAL
Teacher representation on TV in 'Abbott Elementary'
Winston-Salem Journal
The ABC mockumentary "Abbott Elementary" centers on the experience of teachers at the titular school – Willard R. Abbott Elementary. In this Q&A, communication professor Mary Dalton discusses teachers on "Abbott Elementary" and puts them in context with other shows representing teachers in past decades. – 9/22/2022
Biden, Trump loom over NC's US Senate race
By John Deem | Greensboro News & Record
"Certainly, Budd has been much more willing to align himself with Trump than Beasley has been willing to align herself closely with Biden," said politics professor John Dinan. "In view of Biden's relatively low approval ratings for much of this year, it is understandable why Beasley would keep some distance from Biden." – 9/25/2022
New program will place teachers in high-need schools
Greensboro News & Record
The Teacher Quality Partnership grant will involve graduate students at Winston-Salem State University, Wake Forest University and Salem College working with the school district in a program called Winston-Salem Teachers for Equity, Achievement, Community and Humanity or WS-TEACH. – 9/21/2022
This story was also covered by WFDD.
Why was there no media coverage of Face to Face with George W. Bush
By Melissa Leonard Hall | Winston-Salem Journal
"Face to Face brings world-renowned, influential voices to Winston-Salem to discuss topics in a variety of areas including politics, arts and culture, business and social justice. Under the terms of President Bush's speaker's contract, media coverage was not permitted for the event," said Cheryl Walker, the executive director of strategic communications at Wake Forest.  – 9/24/2022
Probe goes underground in search for contamination at site of fertilizer plant fire in Winston-Salem
By John Deem | Winston-Salem Journal
If city or county officials aren't satisfied with the company's cleanup efforts, they likely would recommend additional remediation at the site overseen by the EPA or N.C. Department of Environmental Quality, said Stan Meiburg. If the contamination is severe enough, the property could be designated as a Superfund priority site. "I don't want to overstate my knowledge of the site, but my guess is that outcome is unlikely." – 9/21/2022
Explosive from Weaver fire could destroy a community but EPA looks the other way
By John Deem | Winston-Salem Journal
Chronicling multiple events that threatened communities within a brief period of time is an effective way to make the case for more oversite of chemicals, said environmental expert Stan Meiburg. "It's useful to see incidents such as the Weaver fire as not just a series of one-offs, but as an example of a more systemic set of risks from industrial operations close to where people live and work. Even if it is true that accidents will happen, that's no reason not to take steps to minimize their occurrence and their consequences." – 9/20/2022
Categories: Top Stories, Wake Forest in the News