Main Content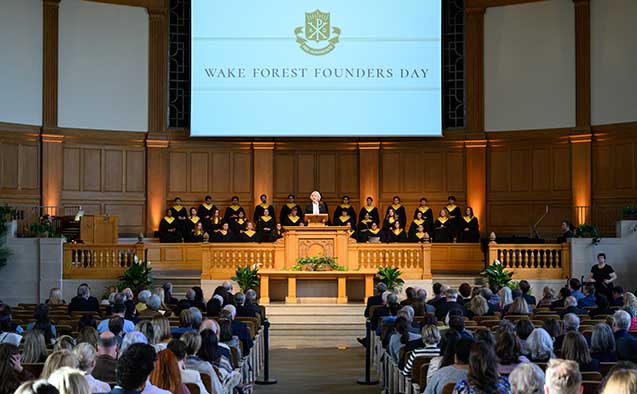 Highlights
University President Susan R. Wente reflected on Wake Forest traditions and their emphasis on service to others.
Senior Vice President and General Counsel J. Reid Morgan was awarded the Medallion of Merit – the University's highest honor.
"Mr. Wake Forest" Ed Wilson was honored for his 75 year association with the University from student to faculty to top administrator.
The Wake Forest University community gathered in Wait Chapel on Feb. 16 to observe Founders Day – a time when the University pauses to celebrate its history and founding, which goes back to 1834. 
President Susan R. Wente spoke about the many traditions that make Wake Forest such a special place to learn and call home. She also reflected on the University's motto of Pro Humanitate, and how it serves as a common thread that will continue to guide the University.
"Pro Humanitate already differentiates us from other universities making it possible for us to weather the seasons of change, while remaining as the alma mater reminds us, constant and true. " Wake Forest University President Susan R. Wente
Founders Day also commemorates the people along the way who faithfully served the University and have left a lasting impact.
Two long-time Winston-Salem community members were honored during the program.
Medallion of Merit
The Medallion of Merit is presented to individuals who have rendered distinguished service to the University, including past presidents, trustees, benefactors, alumni, and retired faculty and administrators.
This year, it was awarded to J. Reid Morgan ('75, JD '79), senior vice president and general counsel. For more than 40 years, Morgan has provided legal counsel across the spectrum of university activities and initiatives.
He has served in the administrations of four University presidents, including as General Counsel and Secretary of the Board of Trustees since 2002. 
Morgan thanked President Wente, friends and colleagues, his family and members of the Wake Forest community, which has been home to him since 1971 when he came to the campus as a first year student.
"On this Founders Day, I'm grateful to count all of you at Wake Forest as friends," he said after receiving the honor.
Morgan was instrumental in developing the University's legal department and facilitated many strategic initiatives that supported Wake Forest's growth.
The University created a tribute video that was shown during the program and chronicles his time at Wake Forest and highlights his career accomplishments.
Morgan will continue to serve as Secretary of the Board for the 2023-24 academic year following his planned retirement as General Counsel later this year.
Provost Emeritus Ed Wilson 
Three decades ago, Dr. Ed Wilson ('43) delivered his speech called "To Honor the Legacy," on Founders Day. His words came to life during a commemorative reading of his work performed by Wake Forest community members to honor his 75-year association with the University.
Wilson, who recently celebrated his 100th birthday, taught English at Wake Forest for nearly 50 years. He was the University's first provost. Referred to affectionately as "Mr. Wake Forest",  he has seen the campus through decades of change and growth.
Wilson attended the event with his wife, poet and author Emily Herring Wilson.
His contributions have also left a lasting impact beyond campus. He served numerous community arts-related organizations throughout his career.
Founders Day Reflection
In her speech, Provost Michele Gillespie highlighted the vital and important changes Wake Forest has made throughout its history,  including the admission of women, the establishment of professional schools, the move to Winston-Salem, engagement in the Civil Rights movement and the creation of Wake Downtown.
"Wake Forest has been and remains a place of constant change. And, indeed, the University engages every one of us in change given its very mission –  whether you are a student in your first or second year or you are provost emeritus who has been here since 1939….Some things that really matter do change – and they must – but it is also good to remember that some things that really matter, do not. We all seek to live out our core values."
Senior Orations
Each year, faculty nominate graduating seniors who they believe have exceptional promise to write a speech that addresses how they have changed during their four years at Wake Forest.
Selected students deliver those speeches during the annual, competitive Senior Colloquium.
This year's overall winner is senior history major Kaitlyn Fox. She presented her oration titled "Through My Lens" during the Founders Day event.
Fox is the editor-in-chief of The Howler, Wake Forest's yearbook. Her speech covered some of the moments she's captured on campus with her camera, mistakes she made along the way as a student and the important role that Pro Humanitate (The University's motto) played in developing her character and values.
The 2023 Senior Oration winners:
Other Founders Day Highlights
The program in Wait Chapel also included musical performances by students from the University's Chamber Choir and WFU Theatrical Singing Classes.
A beautiful video remembrance of Wake Forest community members who have passed away over the past year was also shown. 
After closing remarks by Corey D.B. Walker, interim dean of the School of Divinity and Wake Forest Professor of Humanities, the crowd headed to Reynolda Hall for a festive reception to continue celebrating the University's 189-year milestone.
Watch the full Founders Day program here. 
Categories: Top Stories
Wake Forest in the News
Wake Forest regularly appears in media outlets around the world.