Main Content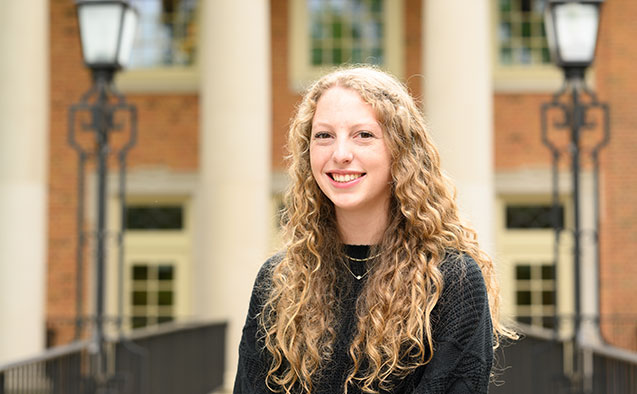 Wake Forest junior and Mullen/Carswell Scholar Shelby Horth has been named a 2023 Barry M. Goldwater Scholar. She is one of 413 college students from across the U.S. to receive the award for the 2023-24 academic year.  
A native of Kohler, Wisconsin, Horth is one of only 48 students selected whose research focuses on mathematics and computer science. She plans to pursue a doctorate in imaging science – an interdisciplinary academic discipline that looks at the design and optimization of imaging systems to improve information-gathering and solve scientific problems. 
Horth credits mathematics professor John Gemmer for encouraging her to seek out challenging opportunities that helped her build community in a competitive field.
"Shelby has tremendous potential to grow into a very strong mathematician and scientist. She is an incredibly driven student and is very resilient to short-term failures. Moreover, she always pushes herself to meet whatever obstacle is placed in front of her and challenges herself by taking some of the toughest courses in our curriculum," said Gemmer, who has mentored nearly a dozen Wake Forest students who have gone on to win prestigious scholarships.
"I feel much gratitude for being recognized as a highly qualified mathematician and scientist," Horth said. "I know how supported I am by the math community at Wake Forest and being named a Goldwater Scholar means expanding this encouraging community."
A favorite collaboration for Horth was working with a small group of Wake Forest engineering and computer science students to construct and program a robot to investigate an underground tunnel system on campus. She is also part of a student-led organization between Elon and Wake Forest Universities to explore research fields and network with field leaders in applied math research.
"Being able to sit down and give yourself credit for all you have accomplished is much needed, and the Goldwater application process is an excellent opportunity to do so." Goldwater Scholar Shelby Horth
Applying for the Goldwater Scholarship requires shining a light on your work for people who you haven't met and who haven't met you. Horth found that making the time to reflect on past experiences, interests and goals increased her excitement about the opportunities ahead.
"Forming a cohesive, tangible document with my collected passions and past experiences was very satisfying," said Horth.
Winning a Goldwater Scholarship
The Goldwater Scholarship is the premier undergraduate award for STEM students. Its recipients go on to become some of this country's finest scientists. Wake Forest University has announced 27 Goldwater Scholarship winners since 1990. Horth's win continues an eight-year streak with at least one Wake Forest student earning the award. 
Goldwater Scholars have gone on to win an impressive array of prestigious post-graduate fellowships, among which are the NSF Graduate Research Fellowship, Rhodes Scholarship, Marshall Scholarship, Churchill Scholarship, Hertz Fellowship, DOE Computation Science Graduate Fellowship, and the National Defense Science and Engineering Graduate Fellowship
Categories: Admissions, Faculty, Scholars, Student, Top Stories, Wake Forest College
Wake Forest in the News
Wake Forest regularly appears in media outlets around the world.