Main Content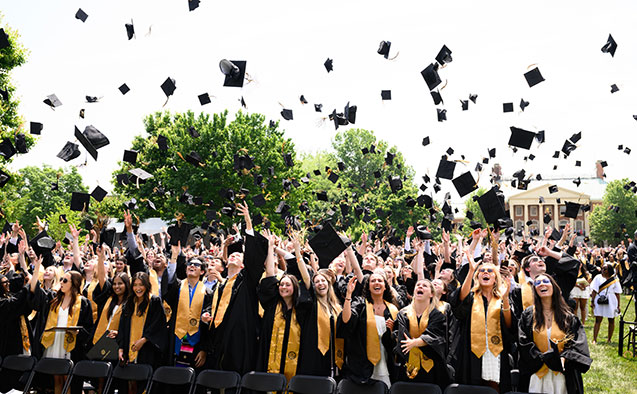 More than 2,000 graduates were honored at Wake Forest's commencement ceremony on Hearn Plaza on May 15.
Kathy Killian Noe, author, pastor, community builder and founder of the Recovery Café Network, delivered Wake Forest University's commencement address. Across the United States, Recovery Cafés offer spaces where those who have suffered homelessness, addiction and other mental health challenges can experience a sense of belonging and an opportunity to contribute to the community.
"No one gets out of a deep pit on their own," Noe said. "No one accomplishes anything of lasting value on their own."
A 1980 Wake Forest graduate, Noe received the Distinguished Alumni Award in 2015.
"What gives purpose and meaning to life is not what we get, but what we give. Listen to the deepest truth within yourselves." Kathy Killian Noe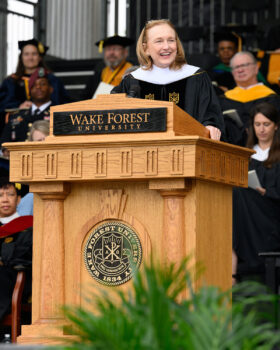 Whether lawyers, teachers, software engineers, pastry chefs or parents, Noe encouraged the Class of 2023 to use their unique power to influence on behalf of individuals or groups being left out.
"Then under their leadership, inspired by their courage, enlist in the struggle to transform systems that perpetuate exclusion," she said.
In her welcome speech to the graduates, Wake Forest President Susan Wente said "Many important and inspiring people are gathered here to offer you words of encouragement, wisdom and hope as you prepare to enter the next phase of your lives. You are ready." 
Also during the ceremony, four ROTC candidates were commissioned.
Retiring faculty from the Reynolda and medical school campuses were honored for their commitment to student engagement and to educating the whole person. 
The University's commencement website is home to recorded livestreams of the graduation ceremony, baccalaureate service and hooding ceremonies for graduate students.
Commencement videos, photo galleries and the full text of Noe's remarks are available.
Categories: Top Stories
Wake Forest in the News
Wake Forest regularly appears in media outlets around the world.