Main Content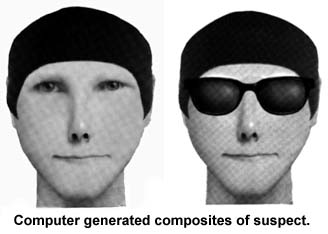 With the aid of computer software, Wake Forest University Police investigators have developed a composite image of the unidentified man who attacked a graduate student on Feb. 10 as she walked to the Wake Forest campus.
The incident occurred shortly before 9 a.m. on Feb. 10 as the woman walked on a paved walkway leading from Reynolda Village. Armed with a knife, the man grabbed the woman as she walked, but he quickly fled when passersby came near them. She was not injured.
The image was created using descriptions of the man provided by the victim and witnesses, according to police. It has been provided to Old Gold & Black, the student newspaper, as well as the Winston-Salem Police Department.
Investigators describe the man as white, weighing approximately 135-145 pounds, and standing approximately 5 feet, 7 inches to 5 feet, 8 inches tall. He was wearing dark clothing, including a knit cap pulled close to his eyes and a waist-length jacket. The man also wore athletic shoes. At one point, he was wearing sunglasses. Police officers would like to talk with anyone who may recognize the assailant or who may have other information that might assist in the investigation. University Police can be contacted at 758-5591. Information can be provided anonymously by calling Campus Crime Stoppers at 758-4477.
Categories: Campus Life, Media Advisory, University Announcement
Subscribe
Sign up for weekly news highlights.
Subscribe