Main Content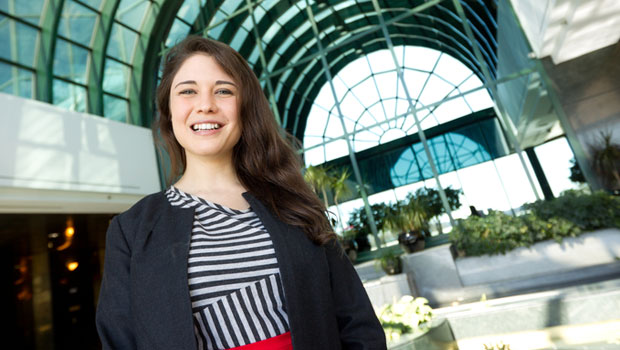 The Excellence in Entrepreneurship Awards recognize students and faculty who have exhibited extraordinary achievements in entrepreneurship over the past year. Nominated by their peers, these individuals embody the entrepreneurial spirit in thought and action.
Excellence in Entrepreneurship Award for an Artistic Venture
Simply Megan
Owner: Megan Van Buren, sophomore from Hollidaysburg, Pa.
Major: Business and enterprise management
About the business: Van Buren has been running her hand-crafted jewelry business for more than six years. Last summer, she traveled to Europe to study jewelry design, discovering that necklaces, rings and bracelets can reveal a vast history in European culture through an artist's vision and inspiration. After her tour, Van Buren developed a new line of jewelry using the beads she collected while abroad.
Excellence in Entrepreneurship Award for a Social Venture
Both Hands Artlet
Owner: Bentrice Jusu, sophomore from Trenton, N.J.
Major: Studio Art
About the business: Both Hands Artlet is a nonprofit organization serving inner-city youth who are endangered by violence in their homes and on the streets of Trenton. Jusu's vision for Both Hands Artlet is to become a center for creative expression and release that embraces all teens, whether labeled delinquent, misbehaved, intellectual or extremely talented.
Excellence in Entrepreneurship Commercial Venture Award
Delightfully Daisy
Owner: Jonathan Williams, first-year student from Taylorsville, N.C.
Major: Mathematics
About the business: Delightfully Daisy, launched in 2005, produces gourmet dog treats made of 100% human-grade ingredients that are free of added preservatives, by-products and synthetic food coloring. Using wholesome ingredients such as rolled oats and creamy peanut butter, Delightfully Daisy produces 5oz. bag treats and single bone treats in the Poppin' Peanut Butter flavor.
Excellence in Entrepreneurship Award for an Online Venture
Bridgeye
Owners: Thomas Chang, sophomore from University Place, Wash.; Shen Lin, MBA student from Taoyuan, Taiwan; Percy Campos, graduate student in computer science
About the business: A live web platform where members can access and update messages, collaborate on projects, engage events, create sub-networks and connect with other members. This platform can be used within or between businesses for collaboration. Bridgeye uses concepts from social media and integrates them with prominent search engines such as Google and Bing.
Excellence in Entrepreneurship in Mobile Application
Campus Connect
Developer: Vincent Cerniglia, junior from Annapolis, Md.
Major: Finance
About the business: CampusConnect is a mobile smartphone application that uses Apple's iPhone, Google's Android and RIM's Blackberry to provide important information to college and high school students nationwide and potentially internationally. The app allows the user to see what their dining halls are serving for breakfast, lunch and dinner; provides a campus map and school directory; offers quick access to information on Division I sports; and provides the ability to search for important news.
Service Leadership Awards
Maddie Brandenburger, Senior economics major from Greenwich, Conn.
About this leader: Brandenburger served as an intern for the Nyanya Project in summer 2010 and as an intern with the Grameen Foundation in NYC during summer 2009. She represented Wake Forest as a student delegate at the Africa-Middle East Credit Summit Campaign held in Nairobi, Kenya, in spring 2010. A social entrepreneur, Brandenburger launched The Snap Project, which seeks to empower African youth by providing photography training and access to cameras.
Chelsea Dougherty and Afton Vechery
About these leaders: Dougherty and Vechery, both business and enterprise management majors, received a joint service award for their contributions to the Teaching Creativity in Higher Education Conference held March 31 – April 1. Their service covered the entire range of activities required for successfully preparing for, implementing and managing the conference.
Tim Griesser, Graduate school student from West Chester, Pa.
About this leader: Griesser built a user-friendly content management system from scratch. The idea started when he bought a Mac with a seed grant and set about learning how to write code. Since then he has launched a successful online business, My Savu, and is working on two more.
Billy Oelsner, Senior biology major from Charleston, S.C.
About this leader: Oelsner was Wake Forest's first NCIAA Ambassador — one of 12 students nationwide to serve in this role. Oelsner received an NCIAA grant because of his involvement in both scientific and social entrepreneurship. He organized the Invention to Venture Conference in April 2011 to help raise awareness about resources available at Wake Forest for budding entrepreneurs.
Creativity and Innovation Awards
Charles Ramsey, Sophomore from Murfreesboro, N.C.
Recognized for: growing his passion as a musician and writer and his love of language and interest in how people think. Ramsey, also a Kemper Fellow, will be in Chicago this summer on a internship at the Art Institute of Chicago.
Spurge Carter First-year student
Recognized for: the gift of curiosity that fuels his passion for making an impact in the world. This summer Spurge will be working in New York City.
Faculty Entrepreneurship Excellence Awards
For course development
Dilip Kondepudi and Abdou Lachgar, Chemistry
Course: The minor in entrepreneurship and social enterprise is one of the most popular, with 75 students enrolling each year. One of the most creative classes developed for this minor, "Green Technologies: Science and Entrepreneurship," is taught by Kondepudi and Lachgar. The course explores how new technologies can be made more sustainable and socially responsible.
For program development
Paul Pauca, Computer science
Project: A faculty member in the computer science department, Pauca initiated a program to help students develop mobile applications. As a component of the program Pauca designed an introductory course in computer science focusing on digital media. Pauca and some of his students have started exploring the use of mobile technology to improve the quality of life of people with disabilities. They recently released Verbal Victor, a low-cost augmentative communication system for people with communication and speech disabilities. Verbal Victor has sold over 1,300 copies to date in the App Store.
Russell D. and Elfriede Hobbs Awards
The endowment provides seed grants, internships, and other support for undergraduate students, and the Russell D. and Elfriede Hobbs Award for Entrepreneurial Achievement for Student and Faculty Entrepreneurs. Winners receive $2500 in recognition of their entrepreneurial achievements.
Faculty Award for a New Venture
Ken Berenhaut, Mathematics
Venture: Berenhaut launched "Involve – a Journal of Mathematics" as a venue in which undergraduates could be encouraged to write and publish high-quality research. His venture has grown to national and international prominence and can be found on the shelves of over 150 libraries worldwide. Berenhaut has published over 50 papers with undergraduate students.
Student Award for a Social Venture
Emily Taylor
Venture: Ecopeful.com sells fair-trade products from around the world and is currently marketing its products to college students. Ecopeful.com hopes to become part of the dialogue on the fair-trade movement through the sale of socially-conscious products that are beneficial to struggling artisans from numerous countries. Fair-trade products sold by Ecopeful.com range from clothing and jewelry, to unique and different personal items.
Student Award for a Commercial Venture
Afton Vechery, Business and enterprise management
Venture: Kera10 was born out of an internship Vechery did last summer at a local biotechnology company, KN LLC. There has been a rising trend in crossover from biotechnology to the cosmetic industry due to the early revenue potential of cosmetic products that do not require Food and Drug Administration approval. Kera10 will be a "cosmecutical" spin-out from KN LLC that focuses on the hair and skincare markets, providing all- natural solutions to unmet needs in the cosmetics industry.
Categories: Events, Faculty, For Alumni, For Parents, Recognition, Student, Students Taking the Lead, Top Stories, Wake Forest College
Subscribe
Sign up for weekly news highlights.
Subscribe