Main Content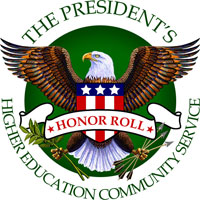 Wake Forest has been named to the 2012 President's Higher Education Community Service Honor Roll.  The University is one of 24 schools in North Carolina to be recognized for engaging its students, faculty and staff in meaningful service that achieves measurable results in the community.
The Honor Roll is announced by the Corporation for National and Community Service (CNCS), a federal agency that leads President Barack Obama's national call to service initiative, United We Serve.
From classes that incorporate service learning to projects outside the classroom, Wake Forest, whose motto is Pro Humanitate, encourages students to cultivate responsibility and civic-mindedness. More than half of undergraduates make volunteerism a priority in their educational experience. Many volunteer regularly at local service agencies, while others travel around the country or abroad to participate in projects.
The Corporation for National and Community Service, which has administered the Honor Roll since 2006, admitted a total of 642 schools to colleges and universities for their impact on issues from literacy and neighborhood revitalization to supporting at-risk youth.
Honorees are chosen based on a series of selection factors, including the scope and innovation of service projects, the extent to which service-learning is embedded in the curriculum, the school's commitment to long-term campus-community partnerships, and measurable community outcomes as a result of the service.
"The Honor Roll schools should be proud of their work to elevate the role of service-learning on their campuses," said Eduardo Ochoa, the U.S. Department of Education's assistant secretary for postsecondary education. "Galvanizing their students to become involved in projects that address pressing concerns and enrich their academic experience has a lasting impact – both in the communities in which they work and on their own sense of purpose as citizens of the world."
Categories: 2012 Highlights: University News, Admissions, Community, For Alumni, For Parents, Student, Top Stories
Wake Forest in the News
Wake Forest regularly appears in media outlets around the world.