Main Content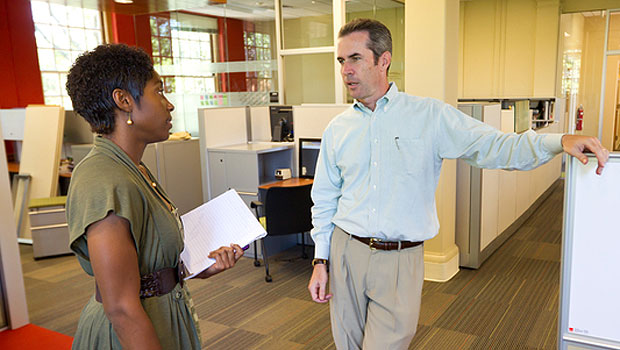 When Corynn Kolberg arrived at Wake Forest last August, she was surprised to see a session with the Office of Personal and Career Development (OPCD) on her orientation schedule. After all, she was just a first-year student.
As it turned out, the introduction to OPCD far surpassed any expectations that the Escondido, Calif., native had. In fact, it became a highlight of her first week at Wake Forest because it prompted her to get involved with the office much sooner than she would have if left to her own devices.
With guidance from the OPCD, Kolberg already has created a résumé, built a LinkedIn profile and tapped into Wake alumni in her hometown for internship opportunities.
Her early engagement exemplifies what Andy Chan, the vice president for personal and career development, wants the Class of 2016 to take away from their session on August 28 – even though they have only been on campus for a few days.
"Wake Forest has made personal and career development a mission-critical component of our college experience," Chan said. "Our goal is to teach and equip students to navigate the path from college to career with clarity, competence and confidence. The sooner we interact with students and vice versa, the better."
Chan and his team want to guide and inspire students to take charge of their personal and career development from their initial days on campus. Today, Wake Forest is one of the only schools in the country to integrate the topic into orientation, a practice that began in 2010.
In addition to giving an overview and virtual tour of the office, OPCD staff introduce students to the increasingly popular "College to Career course series," which was designed to better prepare Wake Forest students for life and work after college.
During the entertaining and interactive session, students get a sense for the range of careers recent Wake Forest graduates have chosen. They also complete a career interests profile and sign up for DeaconSource, an online database for jobs and internships that is only accessible to Wake Forest students and recent alumni.
"At Wake Forest, career development means more than just helping students secure good jobs," Chan said. "Of course, we provide thousands of résumé and LinkedIn profile reviews, mock interviews, and internship and grad school counseling, but we are very intent on helping students to explore and discover their personal interests and passions – in their academics, extracurricular activities and the world of work – so they are prepared to live lives of meaning and purpose."
Kolberg, who is on a pre-health track and plans to pursue a career that involves working with people who have intellectual and developmental disabilities, credits her interactions with career counselor Lauren Beam for getting her on the right track.
"Lauren has been wonderfully helpful! She gives a fresh perspective and really emphasized how internships are a way to find out what you want and what you don't want in not just a career, but in a major as well," Kolberg said. "Getting connected with OPCD is great for first-year students because it gives you the knowledge about how you can be successful beyond the boundaries of campus."
Categories: For Alumni, For Parents, Personal and Career Development, Staff, Student, Top Stories, Wake Forest College
Subscribe
Sign up for weekly news highlights.
Subscribe