Main Content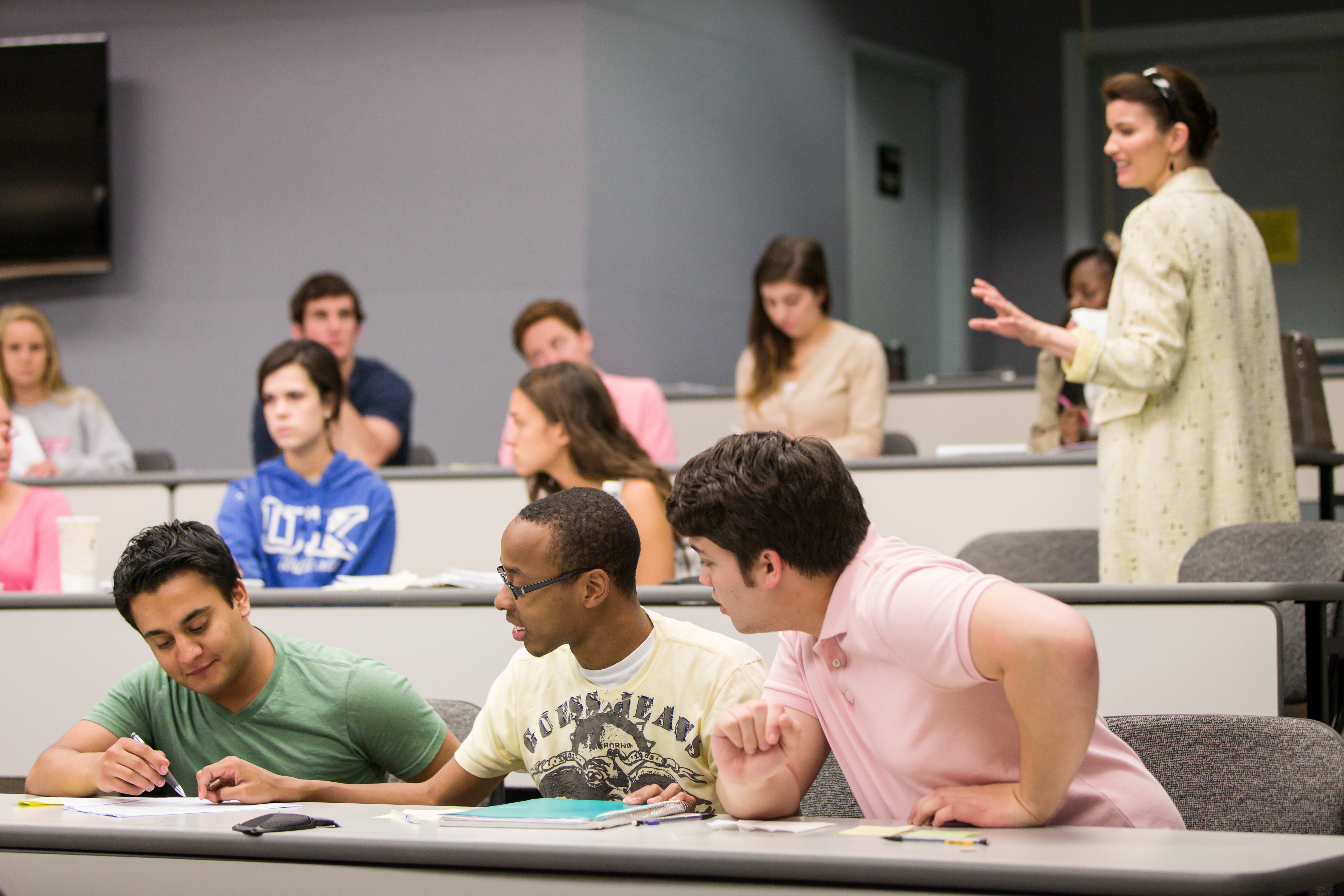 From marking milestones in Wake Forest's history to celebrating the current cultural diversity on campus, Faces of Courage provided a framework during the 2012-2013 academic year for showing Wake Forest's ongoing commitment to diversity.
The yearlong series of events was designed to encourage discussion, bring people together and honor those involved in making Wake Forest a more inclusive place.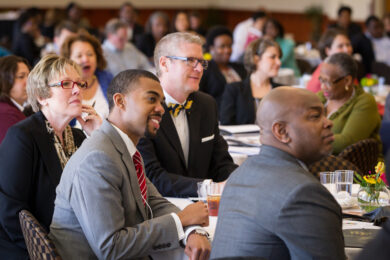 In September, Wake Forest's first black graduate returned to campus to share his story. During the spring semester, higher education leaders and industry executives gathered for the Diversity and Inclusion Symposium to discuss how to prepare students today to be employees in a diverse and global workforce. The calendar was filled with diversity-related events sponsored by academic departments and student groups across campus.
"When people think of diversity, they think black and white," said Barbee Oakes ('80, MA '81), assistant provost for diversity and inclusion. "This goes beyond racial diversity.  We are honoring all of the courageous people who have contributed to diversity and inclusion in the past 50 years.  Wake Forest is committed to creating a culture of inclusion where everyone can thrive—a culture that unlocks Wake Forest's enormous reservoirs of innovation and talent, and eradicates barriers to engagement and collaboration."
The Faces of Courage website traces the history of diversity and inclusion at Wake Forest with a detailed timeline.  Through audio and video, alumni, students and faculty share stories about their part in making Wake Forest a more inclusive community.
Highlights of the year: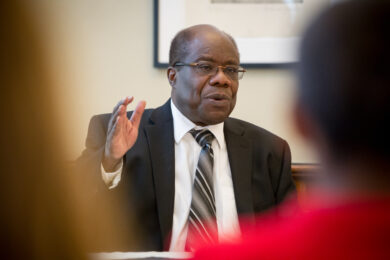 For Edward Reynolds ('64), coming home to Wake Forest in September meant a standing ovation from more than 500 people in Brendle Recital Hall and emotional reunions with many of the students, faculty and administrators who helped him when he enrolled as the first black undergraduate student at Wake Forest 50 years ago. While on campus, he met with small groups of students, guest lectured in Professor of History Anthony Parent's class, and met with Winston-Salem community members.
"Since I was the first one, I think people invested a lot, and they ensured that I would be successful — people from the black community, the campus community," said Reynolds, who graduated in 1964 with a bachelor's degree in history and went on to become a professor of history at the University of California, San Diego.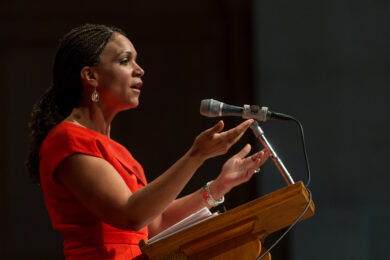 Melissa Harris-Perry, host of her own show on MSNBC and a 1994 Wake Forest graduate, spoke to first-year students as part of a project focused on civic engagement among young voters.  As a student, she had taken classes from Maya Angelou and had the chance to visit her when she returned to campus this fall. On "The Melissa Harris-Perry Show," she paid tribute to her mentor and her alma mater.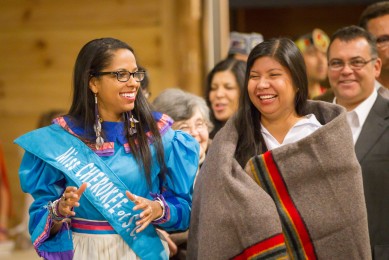 The University honored its first American Indian graduate, Dr. James Jones for his pivotal role in bringing awareness and inclusion of American Indian students to the University.  A day of festivities concluded with an American Indian Culture Celebration.
Amanda Finney ('13), who helped organize the event, said, "Currently almost one in four and half students at Wake Forest is a person of color, which is light years from where we started 50 years ago, and I think the University and administration are encouraging and embracing diversity. It's important to introduce students who maybe have read about Natives in class, but have not had a chance to befriend them or learn about their heritage, culture and who they are as a people. It is one thing to learn something in class but to witness dancing or a ceremony first hand is a different experience."
In March, Wake Forest's first Latino graduates, Carlos Perez ('65) and Peter Bondy ('67), were honored.  Perez talked about his academic experience. "I could not have asked for better people as teachers," he said. "They were knowledgeable, caring and demanding yet fair." Inspired by his time at Wake Forest, he earned his doctorate and became a professor at the University before going on to teach at the University of North Carolina at Chapel Hill.
Communication professor Alessandra Von Burg's vision was born of the idea that everyone has stories to tell whether they are lifelong U.S. citizens or recent immigrants.
Student groups came together to showcase the "Big Tent," encouraging their peers to think about diversity and identity through art. The collaborative community art project between Wake Forest students and local high school students was set up March 27 outside the Z. Smith Reynolds Library.
Nancy Aguillon, a Wake Forest senior, and Harold Holmes, associate vice president and dean of student services at Wake Forest, were recognized as this year's Martin Luther King Building the Dream Award winners. The MLK Dream Award recognizes those who exemplify King's qualities and promote diversity within the community.
The University enhanced its efforts toward creating a diverse, inclusive, and inquisitive community this month with the opening of its new Women's Center, which is directed by Paige Meltzer.
For its commitment to diversity and inclusion, Wake Forest has received the Higher Education Excellence in Diversity (HEED) award from INSIGHT Into Diversity magazine. In addition to diversity efforts related to gender, race and ethnicity, schools were evaluated on initiatives related to veterans, people with disabilities and members of the LGBTQ community.
Categories: Campus Life, Events, For Alumni, For Parents, Top Stories
Wake Forest in the News
Wake Forest regularly appears in media outlets around the world.