Main Content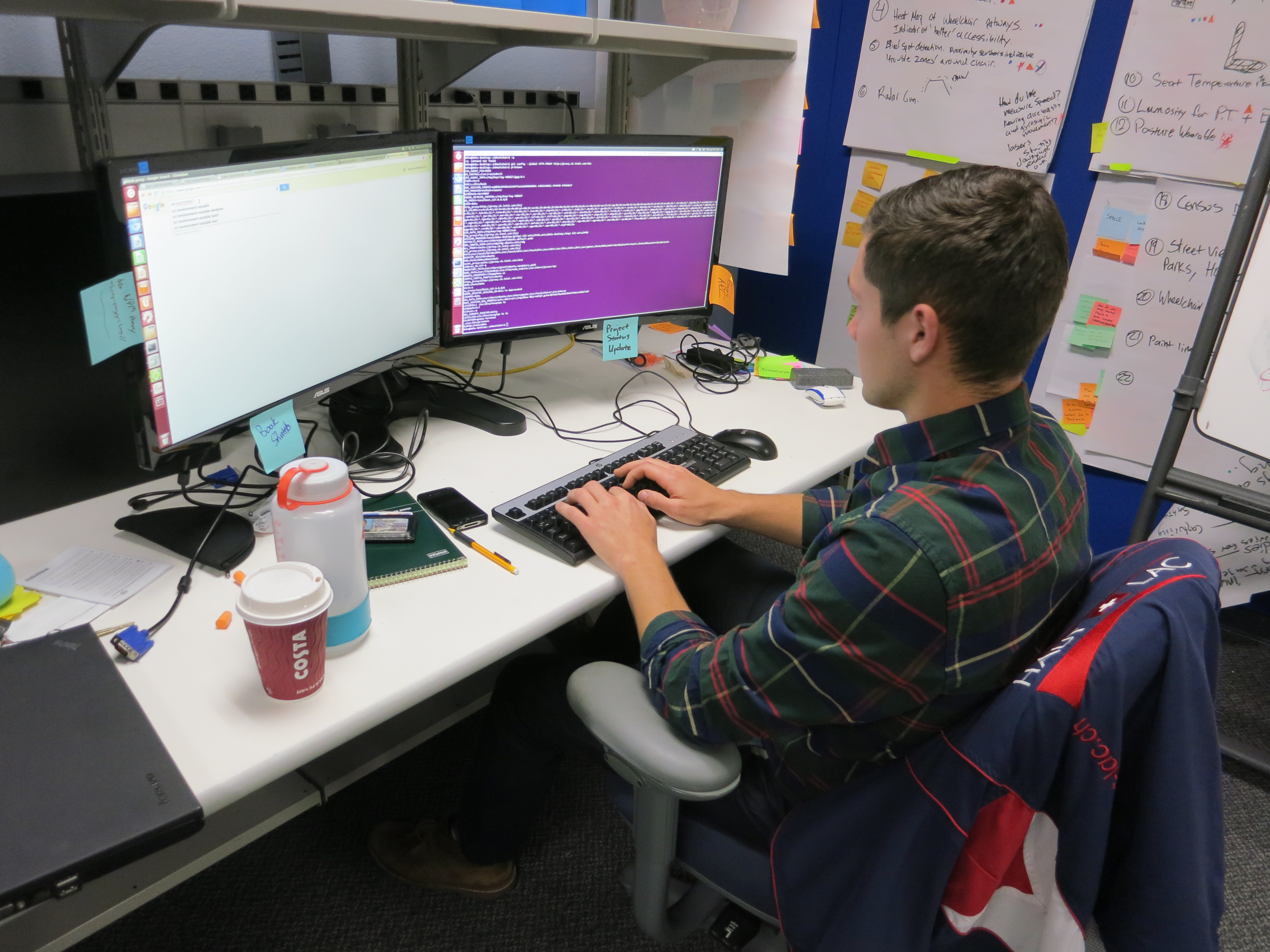 While college marks the beginning of "the future" for many students, Wake Forest senior David Hughes ('15) hasn't wasted any time fast-forwarding right into his.
Hughes, a computer science major, was one of six college interns who spent the past five months working on Intel's Connected Wheelchair Project, which was unveiled at Intel's annual development conference held mid-September in San Francisco. The Connected Wheelchair Project received international attention as a result of an endorsement from world-renowned physicist Stephen Hawking who introduced the project via a short video. (Hughes can be seen at the 58-second mark and again at the 1:38 mark.)
The interns used the Intel® Galileo development kit and Intel Gateway Solutions to create a "smart" wheelchair. The technology monitors the wheelchair user's vitals, including heart rate, respiration, body temperature and posture, and also can monitor the chair's functionality and status. They also built an application that collects information on the user's surroundings, allowing them to map and rate the accessibility of the locations they visit.
"My role within the program was building the software," he said. "I really enjoyed this experience and got to leverage design skills developed here at Wake Forest. I also got to go out and talk to people, make presentations and use communications skills learned here. It was a good balance."
The intern team worked with Intel's Internet of Things (IoT) group. IoT is a computing concept that describes a future where everyday physical objects – like a "smart" wheelchair – will be connected to the Internet and able to identify themselves to other devices, creating one big information system. While the connected wheelchair is only a proof of concept, Intel CEO Brian Krzanich said in the announcement that the project is an example of how "the Internet of Things can help change lives."
The Recent Past
As a freshman, Hughes and a fellow student, Cody Stevens ('13), worked with computer science faculty to spearhead a project to make the student-run Internet college radio station, Wake Radio, more accessible. They unveiled an app that allowed users to stream the radio broadcast through any handheld device.
In late 2012, Hughes became the co-founder and developer of 1834 Software. This campus startup offers Web development for campus groups and organizations. Hughes hires, manages and trains teams of student software developers on Web and mobile technologies within the Wake Forest campus community. Hughes and co-founder Emily Hudspeth '14 received Seed Funding from the Center for Innovation, Creativity and Entrepreneurship (CICE) to create the software. CICE seeks to encourage students to leverage their disciplinary interests and skills to create sustainable value and make a difference in innovative and entrepreneurial ways.
Creative thinking and leadership
Business professor Evelyn Williams has students focus on teams and organizational behavior, so they leave her classes with both a better understanding of best practices and practical ways to apply these lessons to future groups or business teams. Hughes could be the poster boy for leadership after excelling in her design thinking and high performance teams classes.
"David is engaged in a lot of team experiences here at Wake Forest which made him a natural fit for the Intel project," Williams said. "He's learned how to facilitate high performing teams, so it's no surprise that he was quickly moved into a leadership role during his intern experience."
Hughes didn't have to look far to find inspiration on how to meld his software engineering talents with an interest in helping others. As a student of Paúl Pauca's, Hughes has seen up close how the associate professor applied computer science to the benefit of society by creating Verbal Victor, an app to help children with communication challenges.
"He has definitely been a big influence, and I hope to emulate his philosophy in my career," Hughes said.
What's Next?
Hughes said the connected wheelchair project is now at a crossroads and believes it can easily go to market if it can garner the right support. The project uses open-source hardware and software so anyone can access the information and customize the specific requirements, he added. Connected wheelchairs won't be a moneymaker, he said, but it's the "right thing to do" because the technology can dramatically improve the quality of life for wheelchair users, giving them more independence and ease of access.
The new academic year is hardly underway, but Hughes is already looking beyond graduation by wrapping up final job interviews and considering offers from high tech companies on the West Coast. The Intel internship was an experience that broadened his horizons.
"I was very lucky to be a part of it. We were solving a real-world problem and the overwhelming response we've gotten from it has been amazing," Hughes said.
Categories: 2014 Highlights: OPCD, Faculty, Personal and Career Development, Staff, Student, Top Stories
Subscribe
Sign up for weekly news highlights.
Subscribe