Main Content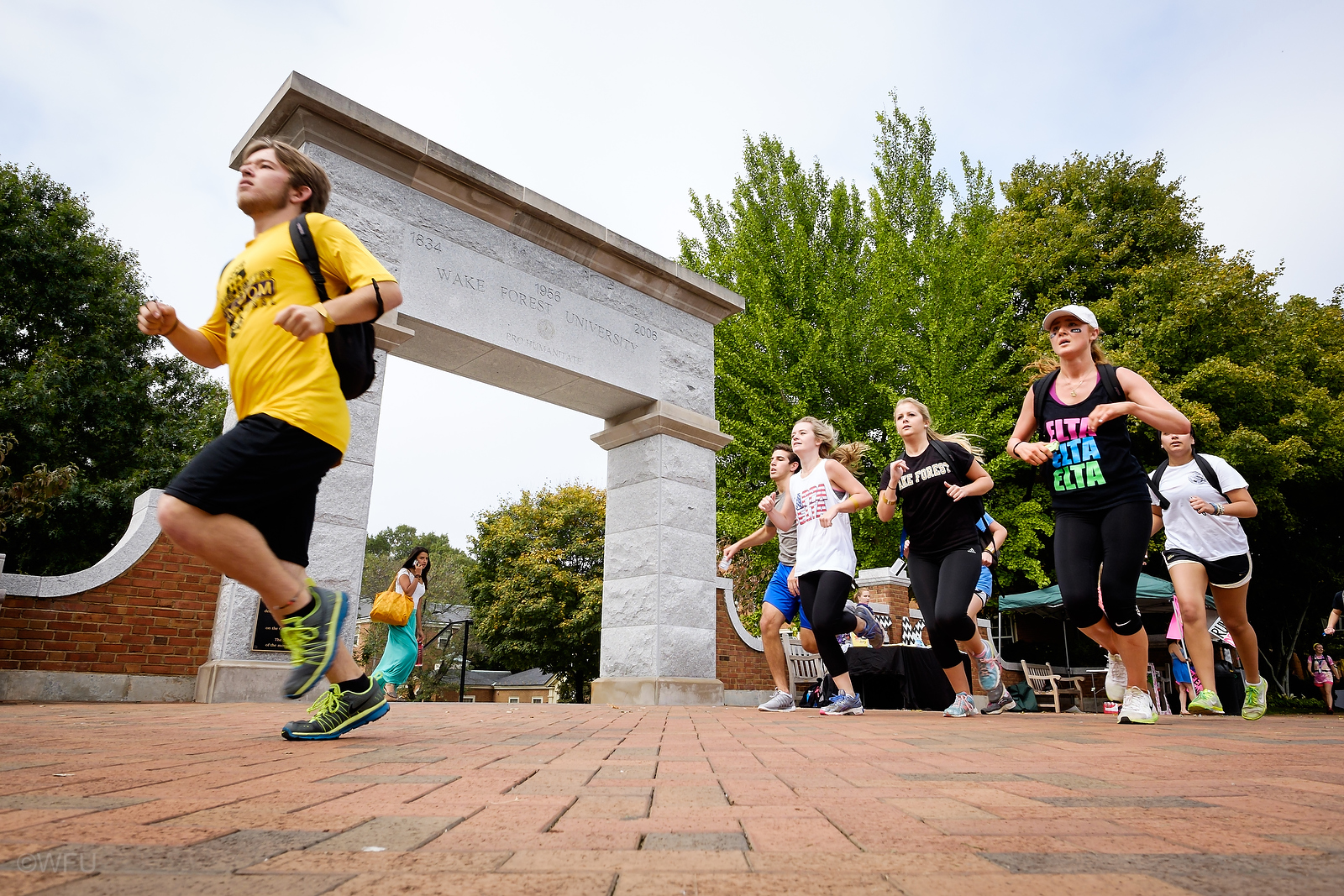 More than 1,000 students, faculty and staff walked, ran, even skipped during Thursday's Hit the Bricks event. A Wake Forest tradition, Hit the Bricks is an eight-hour relay race along the brick pathways of Hearn Plaza in honor of Brian Piccolo, a Wake Forest alumnus and Chicago Bears running back who died of cancer at age 26.
At the inaugural Hit the Bricks, 17 teams participated and raised nearly $4,000. Twelve years later, the total amount raised for the Brian Piccolo Cancer Research Fund has reached nearly $200,000.
Hit the Bricks met its 2014 goal of raising at least $30,000. Of the nearly 100 teams that competed, more than 24,500 laps were completed in the eight-hour race. All of the funds raised support the Comprehensive Cancer Center at Wake Forest Baptist Medical Center.
Madeline Crego, a senior health and exercise science and classical studies major, was one of the three co-chairs for the 2014 Hit the Bricks. Crego has been involved with Hit the Bricks since her sophomore year.
"Cancer runs in my family, so it has always been an element of my life," Crego said. "I got involved during my sophomore year because I was inspired by the way the community came together and saw the direct impact Hit the Bricks has on everyone on campus."
The sense of community felt on campus during Hit the Bricks is infectious, and social media (#wfuhtb) helped to spread awareness of the event. Friends of the Wake Forest community, including alumni and IMG College, also came together to support the event.
Once Hit the Bricks concluded with a ceremonial remembrance lap, participants gathered in front of Wait Chapel for a moment of silence. Students lit luminaries in honor of those who have passed away from cancer as well as those still battling the disease.
"It is amazing to see faculty, staff and students come together for one cause and in the spirit of Pro Humanitate" Crego said. "I think it is rare for a college campus to come together like this and it is one of the many reasons that differentiates Wake Forest."
Categories: 2014 Highlights, Alumni, Campus Life, Community, Events, Faculty, Staff, Student, Thrive / Wellbeing, Top Stories, Uncategorized, University Announcement