Main Content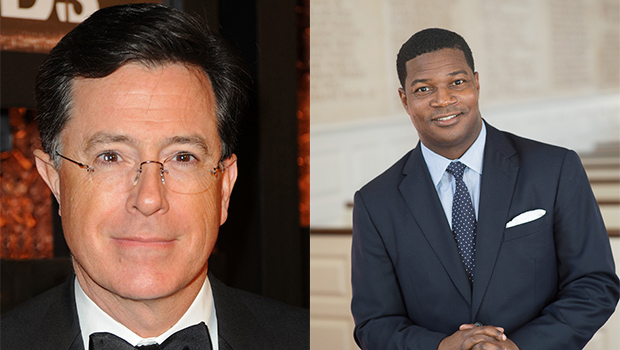 Comedian, political satirist and late night television host Stephen Colbert will deliver Wake Forest University's commencement address on Monday, May 18, 2015.
Stephen Colbert is a best-selling author, writer, comedian, former presidential candidate and television personality. He is most widely known as the host and executive producer of Comedy Central's acclaimed series, "The Colbert Report," which audiences and critics alike hailed as one of the top comedy shows on television.
Throughout its nine-year run, the series was nominated for a total of 40 Primetime Emmy Awards across a variety of categories and won six times including twice in the "Outstanding Variety Series" category and four times in the "Outstanding Writing for a Variety Series" category. The program was also honored twice with the prestigious Peabody Award for Excellence in Broadcasting.
It was recently announced that Colbert would succeed David Letterman as host of the "Late Show" franchise on CBS when Letterman retires this spring. Colbert first gained TV notoriety in 1997 when he joined Comedy Central's late-night satirical news program, "The Daily Show with Jon Stewart."
Colbert is also the author of three books. In 2007, his "I Am America (and So Can You!)" debuted at No. 1 on The New York Times bestseller list and remained on the list for 29 weeks. In 2012, Colbert released a parody children's book titled "I Am a Pole (And So Can You!)," which documents a pole's quest for identity, and later that year he released his third book, "America Again: Re-becoming The Greatness We Never Weren't," which also spent 17 weeks on The New York Times bestseller list. Colbert is a native of Charleston, S.C., and a graduate of Northwestern University where he majored in theater.
"We are thrilled Stephen Colbert has accepted the invitation to speak at Wake Forest's commencement ceremony," said President Nathan O. Hatch. "I'm not sure what our graduates will enjoy more – how his creative genius reflects the exaggerated extremes of politics and contemporary life or how so many of us at Wake Forest will find ourselves on the receiving end of his jokes."
The Washington Post, USA Today and Time have recognized Colbert's commencement speeches at the University of Virginia (2013), Northwestern University (2011) and Knox College (2006) as being among the best ever.
Wake Forest's commencement ceremony is a ticketed event reserved for graduates, their families and guests and is not open to the public. The ceremony takes place on Hearn Plaza at 9 a.m. EST.
A livestream webcast of the ceremony will be available at go.wfu.edu/wfu15.
Previous commencement speakers have included The New York Times' former executive editor Jill Abramson (2014), PepsiCo CEO Indra K. Nooyi (2011), Vice President Joe Biden (2009), professional golfer Arnold Palmer ('51) (2005), Secretary of State Colin Powell (2004), and former First Lady Barbara Bush (2001).
Baccalaureate information
Also joining Wake Forest for the commencement weekend will be baccalaureate speaker Jonathan L. Walton, the Plummer Professor of Christian Morals at Harvard University and Pusey Minister in Harvard's Memorial Church. He is also a professor of religion and society on the faculty of divinity.
"As a social ethicist and scholar of American religions, Jonathan Walton asks us to commit ourselves to building a country where all people feel valued," Hatch said. "His work is a call to action that demands we look honestly at ourselves and our country to both recognize injustice and stand up against it."
Walton, whose research addresses the intersections of religion, politics and media culture, earned his Ph.D. and master of divinity degrees from Princeton Theological Seminary. In 2010, he taught a class at Wake Forest's School of Divinity on gender politics and the public ministries of Martin Luther King Jr. and Malcolm X during the Civil Rights and Black Power movements.
The Atlanta native graduated from Morehouse College with a B.A. in political science. He was an assistant professor of religious studies at the University of California, Riverside prior to joining the faculty of Harvard Divinity School. He is the author of "Watch This! The Ethics and Aesthetics of Black Televangelism." He has also published widely in scholarly journals such as Religion and American Culture: A Journal of Interpretation and Pneuma: The Journal of the Society for Pentecostal Studies.
Walton's work has been featured in national and international news outlets including The New York Times, CNN and the BBC.
Baccalaureate will take place Sunday, May 17, at 11 a.m. in Wait Chapel. Like commencement, baccalaureate is a ticketed event reserved for graduates, their families and guests and is not open to the general public.
Additional information about Wake Forest's commencement weekend is available at commencement.wfu.edu.
Categories: Commencement, Events, Top Stories
Wake Forest in the News
Wake Forest regularly appears in media outlets around the world.