Main Content
Universities across the U.S. have developed programs to attract women and under-represented minorities to the STEM disciplines. So why aren't such efforts translating into more of these students majoring in science, technology, engineering and math and continuing on to a career in research or academia?
At Wake Forest University, students, faculty and administrators are tackling that question through formal research, departmental evaluations and innovative outreach.
Manal Ahmidouch, a junior biophysics major, mentors female students who have expressed interest in science at Parkland High School in Winston-Salem.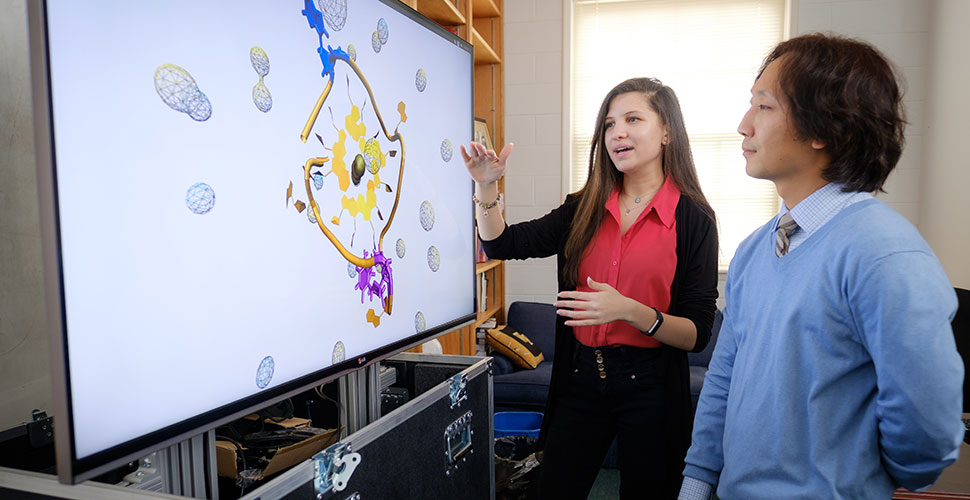 Her message to those girls: "The low percentage of women and minorities in STEM leaves out an important perspective in research and industry. Sciences would be improved by including more women and minorities. If you're interested, go for it. Let's change the world together."
This type of mentoring effort is just what could help crumble the barriers that hold back so many women and minorities from succeeding in STEM, said Michele Gillespie, Dean of the College.
With the appointment of Olga Pierrakos to head the new Department of Engineering at Wake Forest, Gillespie said she is excited to see how much more the University can do to meet the goal of diversity in STEM disciplines as part of its commitment to liberal arts education. As program director for the National Science Foundation's Division of Undergraduate Education, some of Pierrakos' published research has focused on engineering education research, diversity and inclusion.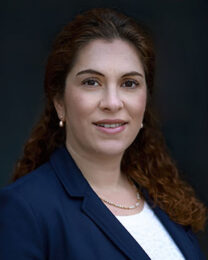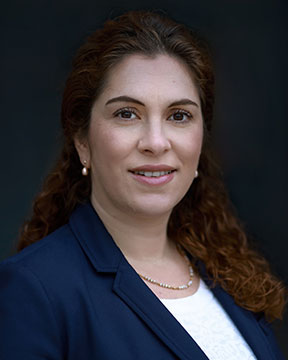 WFU taps NSF's Olga Pierrakos as founding engineering chair
Pierrakos has been appointed founding chair of the Department of Engineering, one of Wake Downtown's new anchoring academic programs, which will begin offering classes this fall. Read more about Pierrakos here.
"Women and minorities bring significant knowledge, understanding and innovative perspectives to the work they do, and it's important that they have the same representation in STEM fields as they do in the general population," Gillespie said. "We have been working since the 1970s to achieve general equity in terms of women and minorities pursuing – and sticking with – STEM careers. We still haven't made the kinds of gains you would expect with such effort."
Chemistry Professor and Wake Downtown Director of Academic Programming Rebecca Alexander said one way to close that gap is to show students how the study of STEM fields can improve lives – and, in many cases, change the world. She has seen how making that connection between science and day-to-day life has captivated women and minority students in particular, and thinks the innovative environment at the new downtown campus will foster that kind of thinking.
"Our challenge is to introduce world problems like drug delivery, water purification and energy usage, and teach students to care about them and apply their knowledge to solving them," she said.
"If we can get students hooked on this early, they are more likely to pursue STEM with passion." Rebecca Alexander, chemistry professor and Wake Downtown director of academic programming
Mentorship and role models
Why and how women and minorities abandon STEM majors has been the focus of a series of studies by Amanda Griffith, associate professor of economics at Wake Forest.
In a 2010 study published in Economics of Education Review, Griffith found some evidence that students who came to the university better prepared for STEM study through AP classes were more likely to stick with a STEM major. Students with relatable graduate-level role models also were more likely to persist in their major.
Another study, published in the Southern Economic Journal, found that students earned higher grades in courses taught by same-gender instructors. And that, Griffith said, could lead to persistence in STEM.
"Thinking carefully about the experiences women and under-represented minorities are having in the classroom is important in terms of keeping them in the STEM major," she said. "Success leads to persistence."
Creating a culture that is positive and supportive in each STEM discipline could pay off, she expects. She herself started her undergraduate study as a biology and economics double major at Colgate University, and chose economics after working one-on-one on a research project with a faculty member.
Her current research focuses on "first impressions" of engineering programs. She is looking at how class structure, demographics and faculty gender in that first class of the major helps determine whether a student continues in engineering.
Melisa Carranza Zuniga, who is completing her master's thesis on high-performance computing focusing on molecular simulation, said she has watched girls begin computer science degrees and then switch majors time and again.
"Having a mentor there to tell you that you can do it would be really helpful," she said.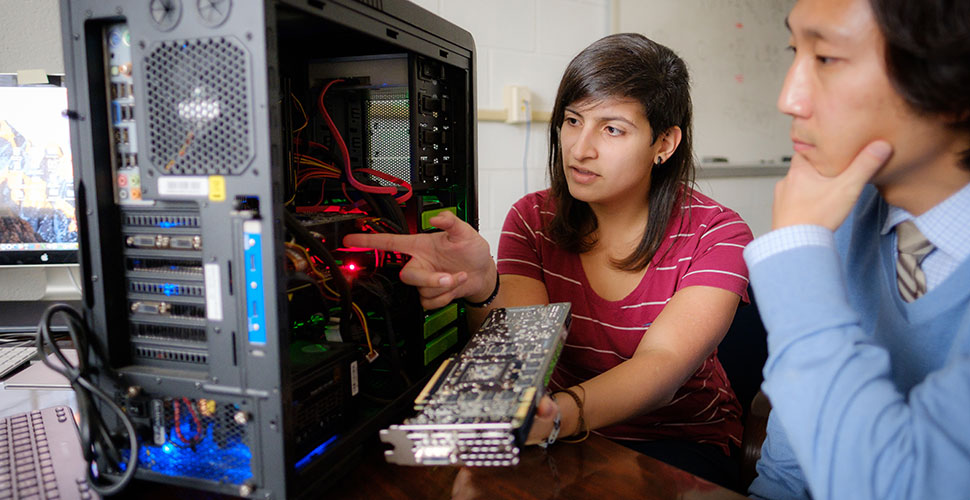 Why has she persisted? She thinks a lot of credit goes to professors who took the time to support and encourage her. Her research mentor, Sam Cho, urged her to apply for a scholarship to the prestigious Grace Hopper Celebration, the world's largest technical conference for computing geared toward women. She won the scholarship and attended the conference in October, earning a chance to interview with Google while there. She will begin the company's elite engineering residency program post-graduation, in mid-July.
Involving more women and under-represented minorities in STEM fields is vital, said Cho, an associate professor of physics and computer science.
"Everybody uses computers, smart phones, smart homes and smart cars," he said. "So all groups should be a part of innovating and improving this technology. Unless more get involved in the product development process, there are going to be a lot of missed opportunities."
Innovating for diversity
There is some encouraging news at Wake Forest. An innovative STEM Incubator class, designed to attract women and under-represented minorities to STEM majors, has yielded 6 percent growth in the enrollment of women in computer science programs, to 32 percent in 2016 from 26 percent in 2013. The national average is about 18 percent, according to the National Science Foundation (NSF).
Wake Forest is part of an NSF-funded alliance, along with Vanderbilt University and Fisk University, that will help historically underrepresented minorities work toward careers in science, technology, engineering and mathematics (STEM).
Sara Kugler, director of external partnerships & initiatives for Anna Julia Cooper Center (AJCC), an interdisciplinary center with a mission of advancing justice through intersectional scholarship, serves as the lead administrator of the $97,219 grant. She also coordinates the Collaborative to Advance Equity Through Research, a national coalition of 55 leading institutions and organizations that have committed more than $75 million to support and advance research addressing the lives of women and girls of color.
"By sharing promising practices and insights that emerge from this bridge model with academic institutions in the Collaborative to Advance Equity Through Research, we will advance knowledge about pathways to career success for women of color in STEM fields." Sara Kugler, director of external partnerships & initiatives for Anna Julia Cooper Center
Additionally, programs such as the STEM Incubator and even innovative learning environments such as Wake Downtown will play a key role in helping Wake Forest increase the participation of women and minorities in STEM fields, Gillespie said.
Wake Downtown's labs and teaching methods are designed for collaboration and partnership. The proximity to the School of Medicine will show students first-hand how lab research impacts the delivery of care. And it's a campus integrated with the real world – in the heart of downtown Winston-Salem.
"If we really embrace our motto of Pro Humanitate, and we talk about ways that scientific knowledge can bring good change to the world and improve the quality of people's lives, we will attract more women and under-represented minorities to the STEM fields," Gillespie said. "That needs to be our goal."