Main Content
On Friday, Feb. 17, Wake Forest held a dedication and ribbon-cutting ceremony for Maya Angelou Hall, a residence hall named for poet, author, professor and civil rights activist Maya Angelou.
Angelou taught poetry and literature to generations of Wake Forest students as Reynolds Professor of American Studies at the University from 1982 until her death in 2014.
The 3 p.m. ceremony began with Wake Forest junior Nia McIntosh reciting one of Angelou's best-loved poems, "Still I Rise."
In his remarks, Wake Forest President Nathan Hatch described the importance of the event.
"Today is not simply a day to open a building, it is also a moment to celebrate and remember the life and influence of a dear colleague, educator and friend. It is a time to recapture the richness of community, the importance of fellowship and the value of all of us – all signatures of Dr. Angelou's life." Wake Forest President Nathan Hatch
Angelou's grandson, Elliott Jones, also spoke to the crowd gathered in the parlor of the new residence hall filled with his grandmother's friends, family, and former students, as well as Wake Forest leaders and those who helped design and build the residence hall.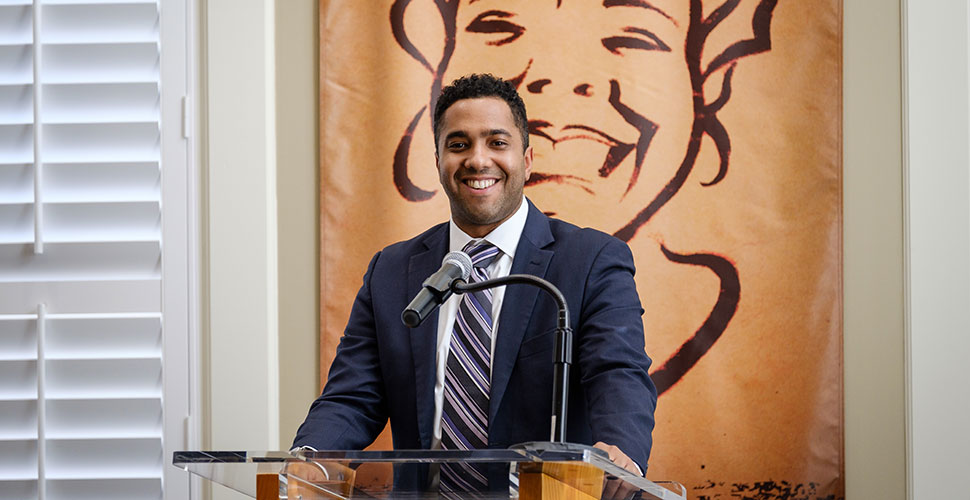 He read remarks from his father, Guy Johnson: "Wake Forest University held an important position in my mother's life because it gave her an opportunity to see that she was not simply a writer who teaches, but for most she was a teacher who writes. …The university awarded her the Reynolds Chair, which allowed her to touch the lives of nearly three decades of students doing what she cherished most – teaching. [Our] family is extremely grateful for Wake Forest University in immortalizing our matriarch's name on campus with this residence hall building."
Legendary singer and songwriter Valerie Simpson Ashford performed a musical tribute and spoke about her longtime friend.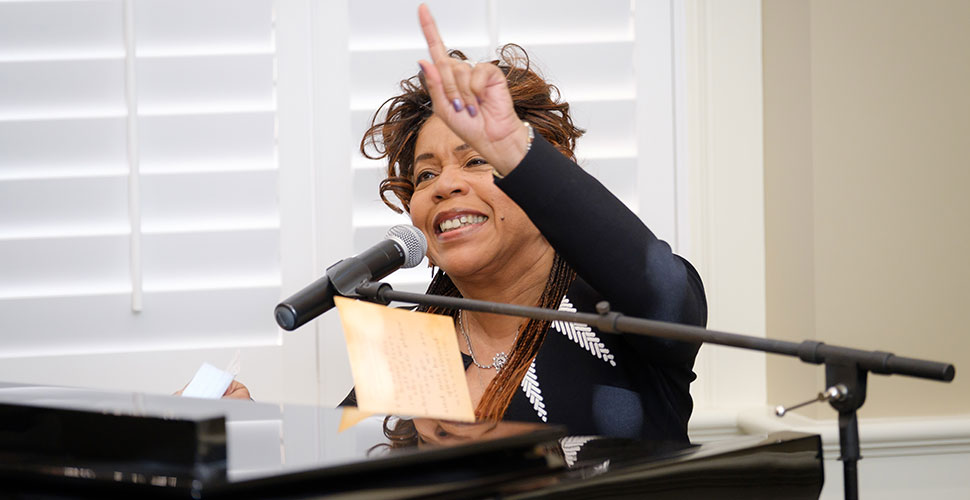 Wake Forest leaders – Dean of Residence Life and Housing Donna McGalliard, Chief Diversity Officer Barbee Oakes, Vice President for Campus Life Penny Rue, Maya Angelou Presidential Chair Melissa Harris-Perry, spoke about Maya Angelou and her legacy.
Angelou first came to Wake Forest in February of 1973 for a speaking engagement and joined the faculty nine years later. Wake Forest awarded Angelou an honorary degree in 1977.
Over the years, she taught a variety of humanities courses, including "World Poetry in Dramatic Performance," "Race, Politics and Literature," "African Culture and Impact on U.S.," "Race in the Southern Experience" and "Shakespeare and the Human Condition."
Maya Angelou Hall is the first campus building named for an African-American and the second residence hall to bear the name of a female professor.
The stately 76,110-square-foot, five-story building designed to house 224 students is located on the south side of campus. The residence hall includes a classroom, study spaces, a media/game room, kitchens, and a recreation lounge. The Residence Life and Housing offices are located on the ground floor.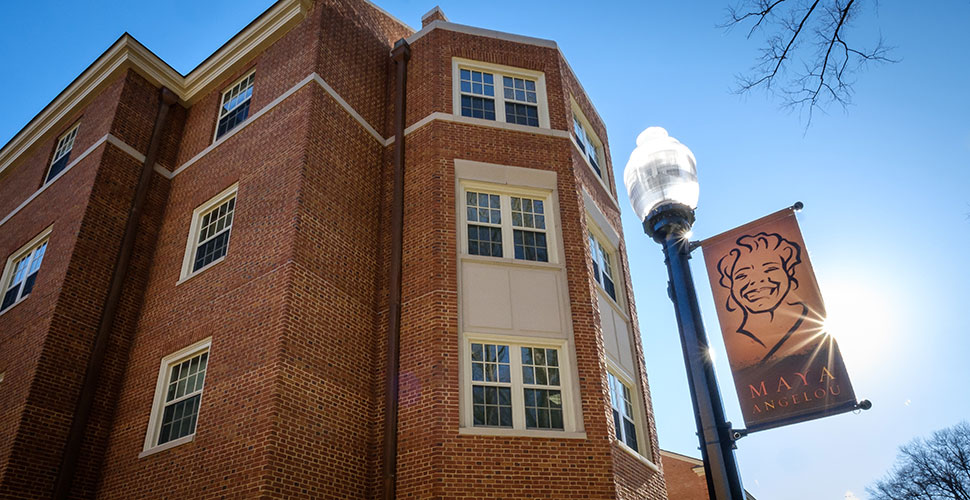 The building was completed in December and opened in January. Currently, sophomores, juniors and seniors – many of whom studied abroad during the fall semester — live in the residence hall. Beginning in the fall, Maya Angelou Hall will house first-year students only.
"This building represents a place for intellectual discourse, friendships forged, and memories made." Donna McGalliard, dean of residence life and housing
Near the event's conclusion, Oakes reflected upon how Angelou's incredible spirit will forever fill the walls of the hall that bears her name.
"When Dr. Angelou passed away on May 28, 2014, many of us wondered how we could go on – literally, how we could go on without her magnificent light in our lives," she said. "We've done a lot of crying in the planning of this event, but today, after standing in this magnificent place, I have joy in my heart at last. You – all of you – and we, the Wake Forest University family, have made this the new home for Dr. Maya Angelou. So, family, friends, welcome home."
More Resources
Read more about Maya Angelou Hall.
More details about Maya Angelou's teaching career and legacy at Wake Forest can be found on her remembrance website.