Main Content
When Wake Forest freshman Dewey Brown was 11 years old, he joined other kids eager to turn air balls into alley-oops at Chris Paul's Junior CP3 Rising Stars Camp. But for Brown, that year was more than a camp. It was a dream come true. He won the camp championship, was named MVP and received an award from his hero.
"Chris Paul was by far and away my favorite player in the NBA," said Brown, who plans to study business. "He not only taught us the fundamentals of a great basketball player, he also taught us fundamentals of life. He taught me how to dribble and how to be a leader. He's one of the main reasons I chose to attend Wake Forest."

Paul talked with President Nathan Hatch on Sept. 13 as part of the University's Leadership Project. In a question and answer conversation, he shared memories of his time as a student at Wake Forest and talked about what it means to be a leader in the NBA and in the community.
"You have to do your part in a team," Paul told nearly 2,000 students, faculty, staff in Wait Chapel. "What I've learned about leadership is it's bigger than the actual game."
"I'm a firm believer in chemistry, and if you really build those relationships and invest in each other in real time, when it comes to game time that stuff matters." Chris Paul ('07)
For Paul, family is the team that keeps him grounded, and other people's families and lives matter, too.
"Over the course of a season the teammate's kids may have a birthday party or an event. Everybody on the team may not go, but as a leader you should go. You might have to suck it up and sacrifice your own time because being there matters for that player."
An admired leader among his teammates and competitors, Paul was elected and has served as president of the National Basketball Players Association since August 2013 — an experience he described as being like a "business class on steroids."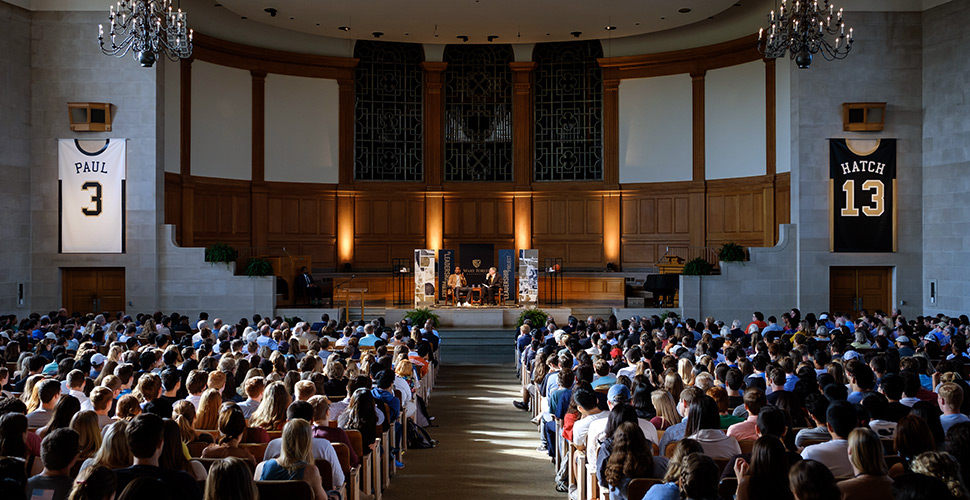 "When you're young and you're a kid and you're thinking about playing in the NBA, you just think about putting a ball in the hoop, but I've been in on conversations about the dress code and the length of our tights and what color tights you can wear and the length of your socks," Paul said. "We talk about everything as far as the business of the game, and that's opened my eyes to how the business of the game affects the fans."
Leading the players' association has given him opportunities to lead on the humanitarian front, too. Recently drafted by the Houston Rockets, Paul calls cities from coast-to-coast home and in each one he reaches out to those in need. From fundraising for those affected by Harvey – with the National Basketball Players Association announcing they will match any donation a player will make up to $20,000 – to volunteering at the Houston foodbank to working the phones to raise money for the Hand in Hand hurricane relief telethon, Paul is an engaged leader.
His support for communities through the Chris Paul Family Foundation and the evidence of his spirit of Pro Humanitate have earned him the NBA Community Assist Award five times, the 2016 ESPY's "Humanitarian of the Year" award, and the 2016 Mannie Jackson Human Spirit Award from the Naismith Memorial Basketball Hall of Fame.
Since its inception in 2005, the foundation has donated $2.5 million dollars to support organizations including Boys & Girls Club, Shoes That Fit, Vision to Learn, the Brotherhood Crusade, Leaps n Boundz and Feed The Children.
"There's a time and place for everything," said Paul. "One day this ball is going to stop bouncing and there's going to be no more basketball.…In life, you have to have balance."
About the Leadership Project
The mission of the Leadership Project is to invite leaders to Wake Forest who will share their personal principles, triumphs, and challenges. The Leadership Project builds upon Wake Forest's existing leadership programs, courses and career development opportunities to help students discover who they are, understand what's required to become an effective leader, and determine what actions to take to improve their own personal development.