Main Content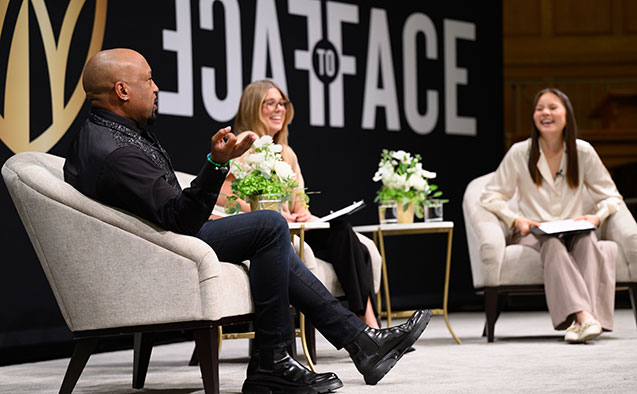 As a Star of ABC's "Shark Tank" and CEO of The Shark Group, as well as founder & CEO of FUBU, and Presidential Ambassador for Global Entrepreneurship, Daymond John knows how to bring together people with different ways of thinking, different talents and the skills to help build an idea from the ground up.
"There's a misunderstanding that entrepreneurs are strong, bold and harsh people who have it all figured out. The entrepreneurs that I have found to be most successful are extremely vulnerable," said John. Entrepreneurs know where they can add value and where they need help, he said. "It's a symbiotic relationship." 
The Face to Face Speaker Forum student-led event was moderated by Wake Forest students Delaney Anderson, a  senior business enterprise management major, and Emma Chang, a junior accounting and Spanish major. Both are earning minors in entrepreneurship. John shared insights from his successful business career with Wake Forest students and college and high school students from the Winston-Salem area in advance of the evening keynote event.
The strength of a leader is to get the most from your people or end the business relationship, he added. "Be honest and have tough discussions. People may not respect it then, but they will respect it down the road."
"One thing Daymond John shared that resonated with me was that when launching a new idea, it does not matter if the idea is good or bad. What matters is the execution," Chang said. "You can have an amazing, innovative idea, but you will see no success with the idea if you do not execute it in a way that exhibits its true value to the world."
And that is the hard part, John said.
"What is new is not the idea itself but the execution of it," John said. "There's nothing new in this world. It's just a new form of delivery. The Voice and American Idol are the same thing. They just turned the chairs. Emojis were called hieroglyphics."
John, the author of three bestselling books, including "Display of Power," "The Brand Within" and, most recently, "The Power of Broke" shared how having dyslexia influences his style by writing as if "speaking casually like every day." His book, "Little Daymond Learns to Earn," introduces young children to how money works. "We don't teach our children about financial literacy in school, and that's a big problem."
The community-facing Face to Face Speaker Forum brings world-renowned, influential voices to Winston-Salem to discuss topics in a variety of areas including politics, arts and culture, business and social justice. 
Face to Face Speaker Forum with Daymond John was presented by the Wake Forest University School of Business Allegacy Center for Leadership and Character. A complete list of Face to Face Speaker Forum sponsors is available here.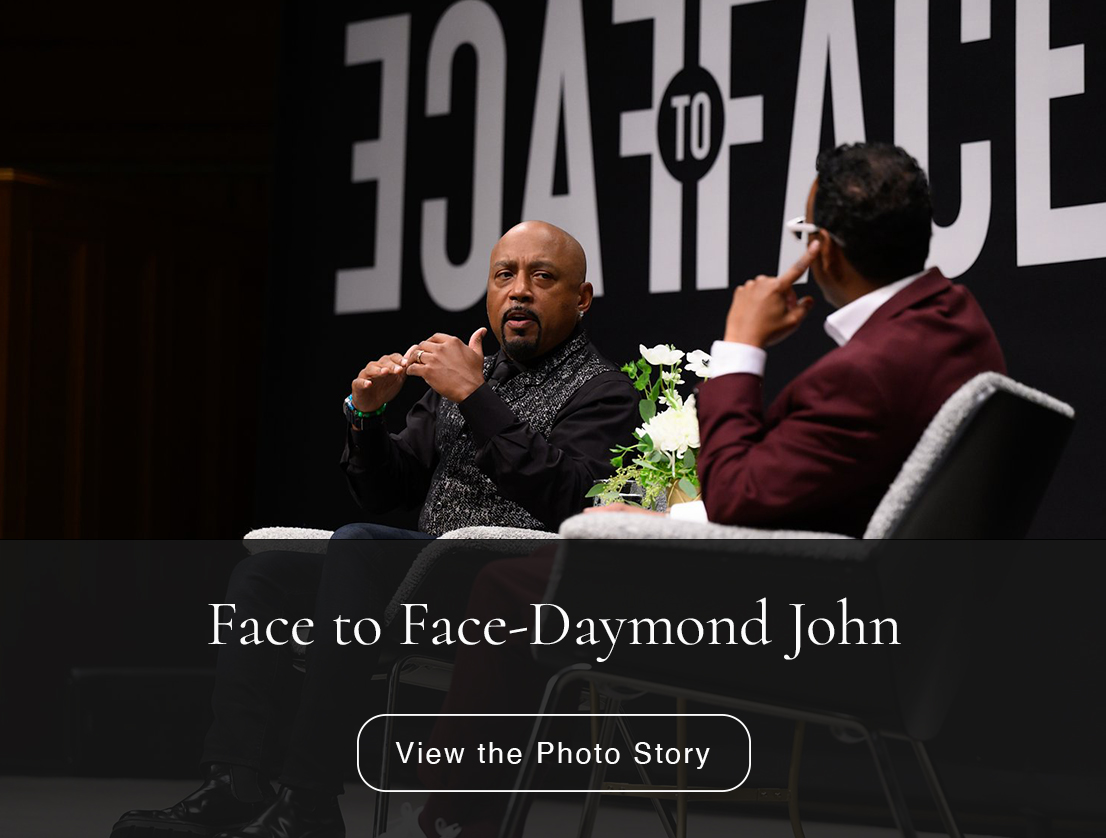 Categories: Events, Top Stories
Wake Forest in the News
Wake Forest regularly appears in media outlets around the world.