Main Content
Former Wake Forest University superstar and hometown hero Chris Paul is donating $2.5 million to support Wake Forest Basketball.
The Houston Rockets point guard's latest donation to his alma mater – the largest ever by a former basketball student-athlete or any alumnus under the age of 35 – will ensure that future generations of Demon Deacons can succeed on and off the court.
Paul's leadership gift demonstrates significant progress in fundraising efforts to transform the men's and women's basketball clubhouses with expanded and enhanced locker rooms, nutrition resources and treatment areas. The new Chris Paul Locker Room for the men's team will be named in his honor.
"Giving back has always been important to my family and me, and Wake Forest is part of my family. The recent investments towards improving Wake Forest Athletics are amazing, and now is the time to give back in a meaningful way." Chris Paul, Wake Forest Basketball legend and NBA All-Star
"The locker room transformation project inspired me, because that's where players build relationships and create a unifying camaraderie that is the foundation of success on the court. Forming lifelong friendships with your teammates is one of the most rewarding aspects of sports," Paul said of his most recent gift to support the Wake Will Lead campaign.
Paul and Wake Forest Director of Athletics Ron Wellman teamed up to make the announcement at the Chris Paul Family Foundation Charity Golf Classic today in Winston-Salem before a crowd that included nearly two dozen former Wake Forest basketball student-athletes and coaches, including Ish Smith, James Johnson, Josh Howard and Dave Odom. Tournament proceeds will provide scholarships for underprivileged elementary and middle school youth to participate in area sports organizations, such as the CP3 Academy, First Tee, YMCA of Northwest North Carolina, Winston Salem Lacrosse and Twin City Soccer.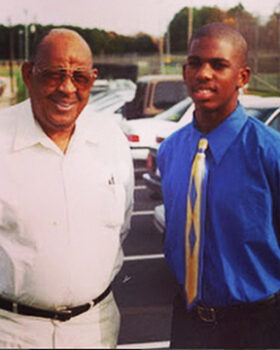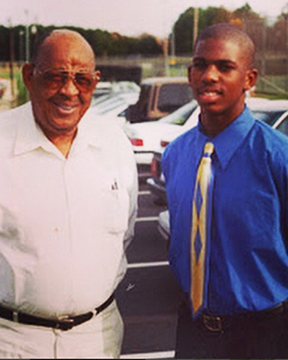 His philanthropic impact on the Winston-Salem area also includes an endowment for scholarships at Wake Forest. In 2007, Paul established the Nathaniel Jones Student Scholarship in memory of his grandfather and mentor (pictured right), which awards two scholarships (one athletic and one academic) annually to deserving students, with a preference for those from Forsyth County.
"Chris honors those who have inspired him by doing the same for many others. I admire his leadership in the spirit of Pro Humanitate and am grateful for his unwavering commitment to his alma mater and our community." Nathan O. Hatch, Wake Forest president
"Everything we do is designed to develop our student-athletes into champions in every phase of their lives, and no one embodies the pursuit of excellence in sports, business and life more than Chris. " Ron Wellman, director of athletics
"We are incredibly appreciative of his continued support of Wake Forest University, our athletic department and our basketball program," Wellman said.
Men's basketball head coach Danny Manning said, "We appreciate Chris' desire to give back to our program and assist our mission to cut down nets. Our goal is to have players who are not just a part of this program for four years but are a part of this program for life. When our alumni are invested in the future success of Demon Deacon basketball, it allows us to build a stronger program."
"With this gift, Chris not only shows his generosity but his continued passion for Wake Forest and we are grateful to continue to have him involved with our program." Danny Manning, men's basketball head coach
CP3's longtime leadership continues
During his two seasons (2003-2005) at Wake Forest, Paul led the team to new heights and established himself as one of college basketball's top players. Playing for the late Skip Prosser, the 2005 consensus first-team All-American led the Demon Deacons to a school-record 27 victories and the program's first No. 1 national ranking during his sophomore season. He still ranks in the top 10 in school history in career assists (395), career steals (160), career 3-point percentage (46.9) and career free throw percentage (83.8).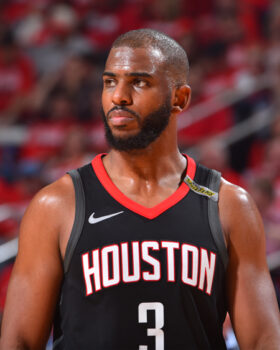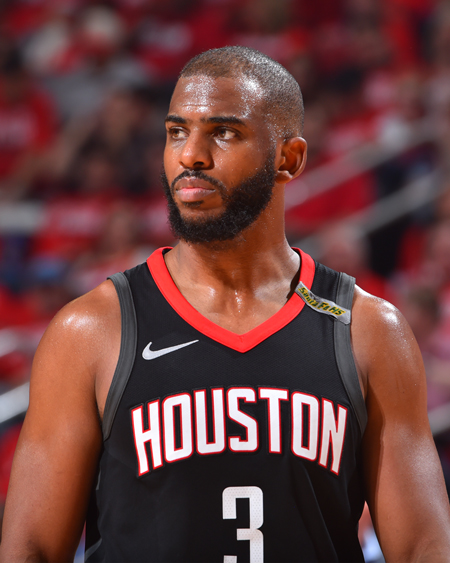 The No. 4 overall pick in the 2005 NBA Draft by the New Orleans Hornets, Paul has been the predominant point guard of his generation over the last 13 seasons. The 2005-06 NBA Rookie of the Year has been a nine-time NBA All-Star, earning MVP honors at the 2013 event, and twice helping the United States win an Olympic gold medal. Paul has been named to the All-NBA Team eight times, including four first-team selections, in addition to nine years on the NBA All-Defensive Team. He ranks ninth in NBA history and is the league's active leader with 8,708 career assists, while his 9.8 career assist average is third-best in NBA history. Last season he became just the 12th player in NBA history to record over 2,000 career steals. Since 2013, Paul has served as president of the National Basketball Players Association.
In 2013, Wake Forest retired Paul's No. 3 jersey, which now hangs in the rafters of Lawrence Joel Veterans Memorial Coliseum.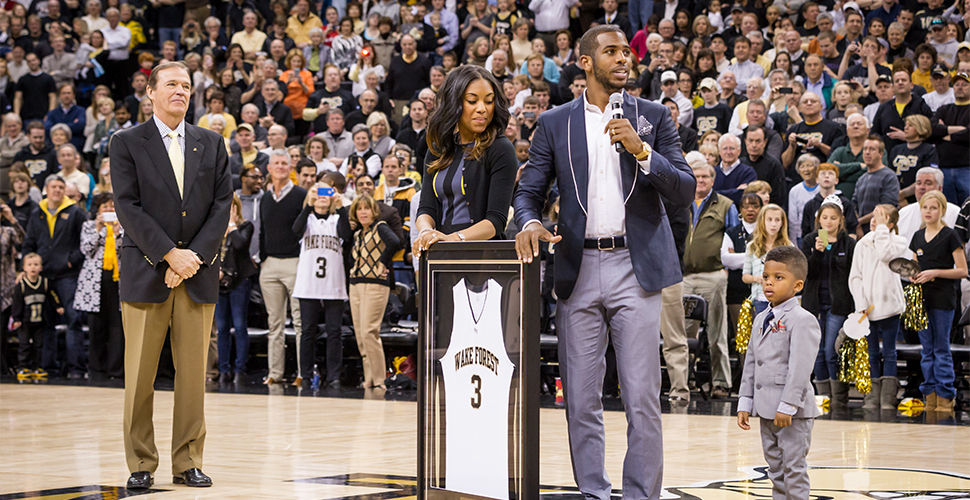 A leader by example
Chris Paul talked with Wake Forest President Nathan O. Hatch in 2017 as part of the University's Leadership Project. In a question and answer conversation, he shared memories of his time as a student at Wake Forest and talked about what it means to be a leader in the NBA and in the community. Read more here.