Main Content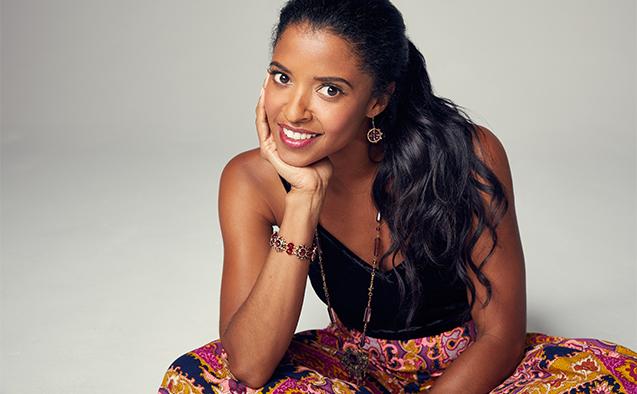 Highlights
Goldsberry will share how her experiences have shaped her vision for arts and leadership. The event includes a moderated conversation with Goldsberry, followed by a brief performance.
"Rich and diverse perspectives of the humanities and liberal arts can enliven and expand our understanding of leadership," says President Hatch.
"Arts of Leading" conference events will be held Feb. 1-3. Admission is free. Registration is required.
Renée Elise Goldsberry, the Tony and Grammy Award-winning star of the Broadway musical "Hamilton," will speak and perform at Wake Forest University on Friday, Feb. 1, at 6 p.m. in Wait Chapel. Goldsberry, also well-known for her film and TV roles – including most recently in the Netflix series "Altered Carbon," will share her personal story and how her experience performing has shaped her vision for arts and leadership.
A moderated conversation with Goldsberry will be followed by a brief performance.
The keynote event will launch a major international conference on "The Arts of Leading: Perspectives from the Humanities and Liberal Arts," which will continue Feb. 2 and 3 in Porter Byrum Welcome Center.
The keynote and conference events are free and open to the public, but registration is required. Register here. Registration does not guarantee admission. Seating will be first-come, first served.
Media are welcome at the Goldsberry event and the conference. Please contact the news office to make arrangements and to reserve seating. Photos and broadcast recording are limited to the first five minutes of Goldsberry's talk.
"From roles in 'Hamilton,' to Shakespeare, Renée Goldsberry's example shows all of us how theatre, music, dance, history, literature, and art can reshape our moral imaginations and empower us to lead with character and courage." Nathan O. Hatch, Wake Forest President
"While there has been much written about leadership in the last few years, much of it has focused only on business and politics," said Hatch. "Her presentation and this conference will showcase how the rich and diverse perspectives of the humanities and liberal arts can enliven and expand our understanding of leadership."
Since winning the Tony Award, Goldsberry has appeared in the title role of HBO's "The Immortal Life of Henrietta Lacks" opposite Oprah Winfrey, and in Baz Luhrmann's "The Get Down" for Netflix. In 2019, Goldsberry will appear in the Trey Shults feature "Waves" opposite Lucas Hedges and Sterling K Brown. Prior to "Hamilton," her appearances on stage include an Outer Critics Circle Award-nominated performance alongside Frances McDormand in the play "Good People," as well as the original Broadway version of "The Color Purple." She made her Broadway debut in "The Lion King."
Co-organized by Wake Forest and the Oxford Character Project, "The Arts of Leading" conference will bring together scholars from classics, history, literature, philosophy, religion and the visual and performing arts to showcase what we can learn about leadership from the liberal arts.
"With its deep tradition of the engaged liberal arts, Wake Forest has long been committed to developing leaders of character." Michael Lamb, an organizer of the conference and director of Wake Forest's Program for Leadership and Character
"This conference explores how the arts and humanities can help to equip and empower us to lead," said Lamb.
Speakers include leading scholars from Wake Forest and other universities, including Oxford, Harvard, Stanford, the University of Pennsylvania, University of Chicago, Duke, University of North Carolina, University of Richmond, City University of New York, The Jewish Theological Seminary and King's College London. Discussions will range from exploring how literature can shape our understanding of leadership to considering what we can learn from leaders from ancient Greece and Rome to contemporary America. Interactive workshops will draw on different disciplines and approaches – including music, dance and spoken word poetry – to help participants develop and deepen their practice of leadership.
Categories: Arts & Culture, Events, Speakers, Top Stories