Main Content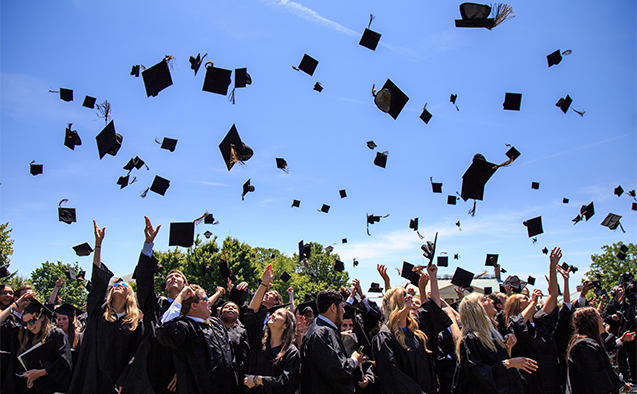 Frederick J. Ryan Jr., publisher and chief executive officer of The Washington Post, will deliver Wake Forest University's commencement address on Monday, May 20. The ceremony will begin at 9 a.m. on Hearn Plaza.
A livestream webcast of the commencement ceremony will be available at go.wfu.edu/2019grad.
Also joining Wake Forest for the commencement weekend will be baccalaureate speaker Gary Haugen, CEO and founder of International Justice Mission (IJM).The Baccalaureate service will be held Sunday, May 19, at 9 a.m. in Wait Chapel.
A livestream webcast of baccalaureate will be available at go.wfu.edu/bacc19.
Commencement and baccalaureate are not open to the public.
Media credentials are required to attend commencement events. Parking passes will be required to enter campus. All members of the media are also asked to carry their own media credentials. Morning television crews may arrive as early as 5 a.m. Email media@nullwfu.edu to request credentials.
More details on commencement and baccalaureate speakers are available here.
Experts available for interviews
Trends in personal and career development:
Andy Chan, Vice President, Innovation & Career Development
With 98% of 2018 Wake Forest grads either employed or in graduate school, Chan can provide tips on supporting college students in discovering, planning for and launching a career after graduation. But at Wake Forest, personal and career development is not just about the first job once the diploma is in hand, it is about helping students be prepared and focused for whatever life may throw their way.
What employers want:
Mercy Eyadiel, Associate Vice President, Career Development & Corporate Engagement
Organizations are using analytics to streamline their recruiting process. Colleges that can connect employers to students with the right skills and talents and with diversity of thought and experiences, win big when it comes to jobs for grads. When data show a strong history of successful hires, employers invest more time and attention in recruiting at that school. They also recruit earlier to secure top talent.
What to expect when you're expecting to graduate:
Allison McWilliams, Assistant VP, Mentoring and Alumni Personal & Career Development.
McWilliams, author of "Five for Your First Five: Own Your Career and Life After College," helps young adults make their way from college to life-after-college. She can offer tips on how to manage the decisions, challenges and opportunities that come with starting a career. The first job is just one step in building a life with realistic expectations based on values-driven choices.
Students available for interviews
Kayla Amador: Since kindergarten, Kayla wanted to be an artist. But when the time came to choose a college, she decided to pursue a broader liberal arts education at Wake Forest rather than attend an art school. A double major in studio art and Japanese language and culture, Kayla was one of only six students who participated in an art acquisition trip to New York where students are given funds to purchase works for the University's collection. She has accepted a position as manager of the START gallery in Reynolda Village.
Kyle Flaherty: As a first generation college student, Kyle sought every support available at Wake Forest, then shared what he learned about how to succeed with his friends. Graduating with a major in computer science, he has accepted a job with Capital One working in cyber security. Kyle is committed to helping students in lower income public school systems gain access to resources in the STEM fields. "There were no computer science classes in my high school, so I was at a disadvantage in my first class at Wake Forest when compared to my peers. I want to help change this for others."
Addie Folk: Addie is a 6th generation Wake Forest graduate on her father's side of the family and a 3rd generation on her mother's. "I was against coming to Wake Forest because I did not want my family to force me to live the same experiences they had, and I wanted to have my own college experience. But once I toured the campus, I was sold that Wake was where I was meant to be." Addie majored in religion and completed a minor in dance.
Quentavious "Q" Revis: Q is a first-generation Magnolia Scholar from a small town in Eastern N.C. He is receiving a degree in accountancy and has accepted a job at PwC, which will begin after he completes his fifth year master's degree in accountancy at Wake Forest in 2020. In addition to majoring in accounting, Q has been an RA, a President's Aide and a volunteer in several organizations.
Frida Isla Valdez: A sociology major with a concentration in business, Frida has accepted a consulting position with EY in People Advising Services. Though she will be based in Charlotte, Frida will travel around the state meeting with clients. A self-described people person, Frida accepted internships each summer during her college years and studied in D.C. with Wake Forest's Wake Washington program. Along with her sociology major, Frida completed minors in politics and international affairs and Latin American & Latino studies.
Categories: Commencement, Events, Top Stories