Main Content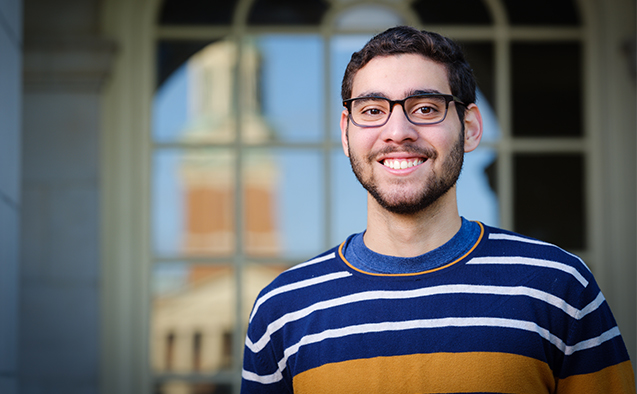 The Pulitzer Center on Crisis Reporting has awarded a fellowship to Wake Forest University student Rafael Lima, a sophomore majoring in communications and minoring in journalism and political science.
The $3,000 award will support reporting in his home country of Brazil about how indigenous people are fighting to protect their heritage, way of life and environment following the election of President Jair Bolsonaro. His administration has targeted large parts of the Brazilian Amazon for deforestation and economic development, threatening the livelihood and culture of native tribes who live in those rain forests, Lima said.
"The demarcation of territories belonging to indigenous groups has been a source of huge debate and controversy in Brazilian society ever since it was established in article 231 of the 1988 Brazilian Constitution," Lima wrote in his application. "The creation of indigenous territories was a way to ensure the preservation of indigenous heritage for the 305 indigenous ethnicities residing in Brazil.
"However, it has not always accomplished that goal. Over the past 16 years, there has been a tug-of-war between the agribusiness-driven Congress and the formerly preservation-friendly executive branch. Now, with far-right president Jair Bolsonaro taking the reins of the executive, the future of indigenous lands feels more uncertain than ever."
A native Portuguese speaker, Lima is ideally suited to pursue this timely environmental and human rights story, said Justin Catanoso, professor of the practice in journalism who has overseen the Pulitzer fellows application process at Wake Forest since it started in 2012.
"Even as he has immersed himself in college life and student journalism here at Wake Forest, Rafael has followed closely the politics of Brazil and the populist movement that gave rise to Bolsonaro earlier this year," Catanoso said. "Rafael has well-informed sources ready to help him start his reporting when he arrives back in Brazil this spring."
The journalism program at Wake Forest is a member of the Pulitzer Center's Campus Consortium, which brings foreign correspondents to campus and provides annual funding for the fellowships to students for international reporting projects. The journalism program also provides support for the fellowship. Lima is the University's ninth fellowship recipient. He is also the recipient of the Wake Forest University Brazilian/U.S. Scholarship.
Categories: Recognition, Student, Top Stories
Subscribe
Sign up for weekly news highlights.
Subscribe