Main Content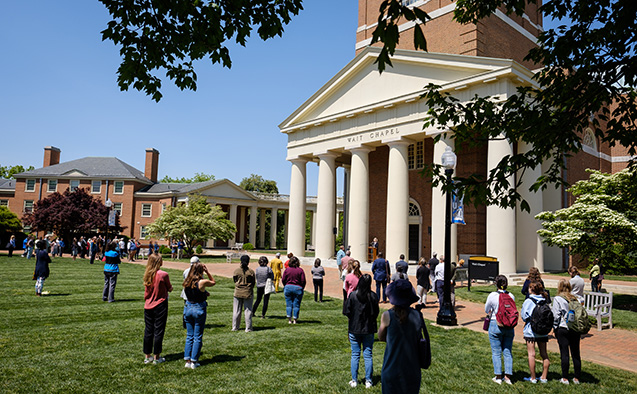 Members of the Wake Forest University community gathered at the steps of Wait Chapel this afternoon to commemorate the enslaved individuals who worked for or were sold to benefit the institution that would become Wake Forest University. 
During the event, faculty, students and alumni read the names of those enslaved individuals aloud. Sixty-two bell tolls rang from Wait Chapel for the 61 names read and one for those whose names remain unknown.
"There are many emotions we may feel today– on this day of commemoration for the enslaved. Sadness. Anger. Regret. Grief. A yearning for progress and healing. All of these have their place, and I hope that we might add to those emotions a note of elevation and recognition, for those whose lives and labors contributed to this university's beginnings," said President Susan R. Wente in her welcoming remarks.
Originally called the Reading of the Names Ceremony and now referred to as the Commemoration of the Enslaved, the event was started by students in Wake Forest's sociology department and School of Divinity, who on May 7, 2019, gathered for the first time on the steps of Wait Chapel to remember the enslaved individuals who were sold by or worked for Wake Forest. 
The Slavery, Race and Memory Project, which sponsored the event, guides the research, preservation and communication of an accurate depiction of the University's relationship to slavery, and its implications across Wake Forest's history and the history of the United States. A collection of essays, "To Stand With And For Humanity: Essays from the Wake Forest University Slavery, Race and Memory Project" is available on the website. Additional information about Wake Forest's diversity, equity and inclusion efforts can be found at community.wfu.edu.

Categories: Community, Community in Progress, Events, For Alumni, For Parents, Top Stories
Wake Forest in the News
Wake Forest regularly appears in media outlets around the world.