Main Content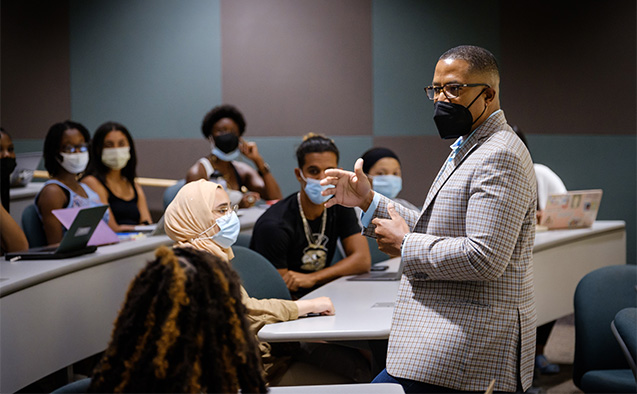 Wake Forest University and Guilford College are co-hosting the spring Universities Studying Slavery (USS) Conference, expected to bring scholars from throughout the country to the Triad.
The four-day conference, titled "Pandemics, Protests and the Legacies of Slavery," runs from Wednesday, March 30, to Saturday, April 2. Most events are free and open to the public; however, registration is required. To register, go here.
The USS Conference kicks off on March 30 at 4 p.m. with three simultaneous, two-hour events: a film and basic tour of the International Civil Rights Center and Museum (ICRCM) in downtown Greensboro; a guided historical walking tour from North Carolina Agricultural and Technical State University to the ICRCM; and a full, guided tour of the ICRCM. Following those events, a free, opening reception will be held at the Civil Rights Museum.
Corey D. B. Walker, Wake Forest Professor of the Humanities, and Mary Tribble, associate vice president and senior advisor for engagement strategies, are co-chairs of Wake Forest's USS Conference Planning Committee. Assisting them is Sean T. McClure, special projects coordinator in the Office of the Provost.
Gwen Erickson, Quaker archivist, and Krishauna Hines-Gaither, a consultant for Guilford's Office of Diversity, Equity and Inclusion, are spearheading the Conference for Guilford. Assisting them are Meredeth Summers, senior executive administrative officer and assistant to the Board of Trustees, and Sarah Thuesen, assistant professor, History Department and Women's, Gender and Sexuality Studies.
Universities Studying Slavery is a consortium of colleges and universities in the United States, Canada, Ireland and the United Kingdom that are studying the role slavery played on their campuses. Wake Forest joined USS in 2017, a year after the University began taking a deep dive into its history. After joining USS, Wake Forest launched its Slavery, Race and Memory Project (SRMP).
Guilford College joined USS in 2018 and originally planned to host the upcoming conference in 2020 but had to postpone it due to the COVID-19 pandemic. Officials at both institutions are excited about co-hosting the event, especially at such a pivotal time in the nation's history.
"The current global pandemic and ongoing protests for a more just democracy challenge all of us to wrestle with the histories and legacies of slavery in our universities and, most importantly, in our society," said Walker, also director of Wake Forest's African American Studies program. "The formidable challenges we face require all of us – students, scholars and citizens – to take up the task of critically confronting our shared past to charge a more just future for all humanity. This conference aspires to do nothing less than this audacious task."
Added Erickson: "Universities Studying Slavery brings together folks to connect with others seeking a deeper understanding of our complicated past. The sessions and speakers planned for the Conference will inspire conversations about ways this impacts our institutions and communities today, and opportunities for repair."
After the events at the Civil Rights Center, Guilford College President Kyle Farmbry will give the welcome at the March 31 opening plenary session, titled "Legacies of Names Past and Present," in the College's Hege Library. The College's COVID-19 protocols will be observed, and face masks are optional
Among session panelists are Hines-Gaither, also the vice president for equity, diversity & justice at Mount Saint Mary's University in L.A.; Damon Akins, professor, History Department, and clerk of the faculty at Guilford; and Thuesen.
Several panels are planned throughout the day, culminating in a talk by retired Guilford College History Professor Adrienne Israel, in Dana Auditorium. Guilford faculty and staff will make presentations each day of the event.
On Friday, April 1, the Conference will begin with a plenary session at 9 a.m. in Room 401 in Wake Forest's Benson University Center. University COVID-19 protocols will be observed, and wearing face masks is optional. Wake Forest University President Susan R. Wente will give the welcome, followed by a panel, titled "To Stand With and For Humanity," moderated by Walker.
Panelists are Kami Chavis, a law professor and co-chair of the SRMP steering committee; Tim Pyatt, dean of the Z. Smith Reynolds Library and former SRMP steering committee co-chair; Derek Hicks, associate professor of religion and culture in the School of Divinity; Anthony S. Parent Jr., professor of history and American ethnic studies; Tribble; and Andrew McNeill Canady, chair of the Department of History, Political Science and Religion and associate professor of history at Averett University in Danville, Virginia.
Hicks is also director of Wake Forest University's Center for the Research, Engagement and Collaboration in African American Life, or RECAAL, and Canady has been commissioned by Wake Forest to do original academic research about the role of slavery and enslaved persons in its history.
Other North Carolina USS member institutions are Appalachian State University, Davidson College, Elon University, Meredith College, Queens University of Charlotte, Salem Academy and College and the University of North Carolina at Chapel Hill. Organizations contributing to the Conference include N.C. A&T, Old Salem Museum & Gardens, Preservation Greensboro's Blandwood Museum, Salem Academy and College and Z. Smith Reynolds Foundation.
For more information or to interview panelists from Wake Forest University or Guilford College, please contact media@nullwfu.edu or Laurie D. Willis at willisla@nullwfu.edu or 336.549.1994; or Robert Bell at bellrw@nullguilford.edu or 336.316.2239.
Categories: Community in Progress, Events, For Alumni, For Parents, Top Stories