Main Content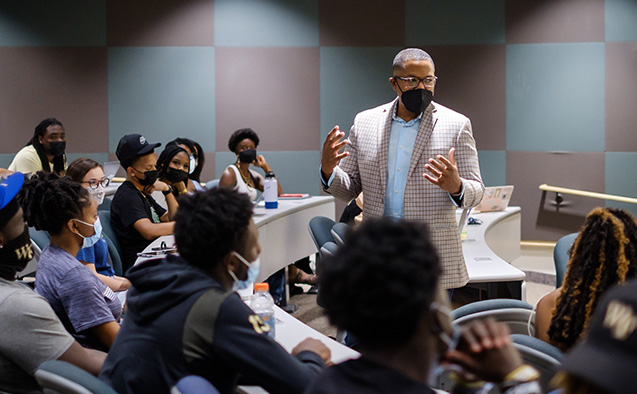 Wake Forest University has been working to establish an African American Studies program for a few years. Last week's launch of the program is timely given the country is experiencing increased racial tensions, states are passing stricter voting laws and virtually everybody is uttering the term "woke."
Corey D. B. Walker, Wake Forest Professor of the Humanities, is the inaugural director of the program and is teaching its first course, Introduction to African American Studies.
"It's always exciting to start something new." Corey D. B. Walker, Wake Forest Professor of the Humanities
"In this climate of heightened tension in our society and global crises ranging from environmental catastrophes to political struggles for deep democracy to the pandemic, it's vitally important to launch such a critical, intellectual project with the broad support and backing of the community and the University to change relationships between knowledge and power," Walker said. "We are excited to engage students in all aspects of African American Studies at Wake Forest."
Walker joined the Wake Forest faculty in 2020 and has previously taught at several universities, including Winston-Salem State University and Brown University, where he chaired the Africana Studies department.
More than 23 professors are contributing to the program, including new Wake Forest University professors Julia Jordan-Zachery and Melanie L. Harris.
Jordan-Zachery is professor and chair of Women, Gender and Sexuality Studies and previously directed the Black Studies program at Providence College and chaired the Department of African Studies at UNC Charlotte.
Harris, professor of Black Feminist Thought and Womanist Theology and director of Wake Forest's Food, Health and Ecological Wellbeing program, was the founding director of Texas Christian University's African American and Africana Studies program.
Walker has collaborated with several campus departments and programs to offer 11 courses this fall, including Black Popular Culture, Black Feminist Theory and African American Rhetoric.
The University offers a major and minor in African American Studies, and a graduate certificate is planned. Majors will develop original research projects, and a capstone experience for seniors will bring together students, scholars and community activists to synthesize and create new knowledge.
In January, a $1 million gift was anonymously donated to support the program. The gift established the Dr. Dolly A. McPherson Fund for African American Studies, named for the long-time professor of English at Wake Forest who made significant contributions to African American literary studies. McPherson died in 2011 and was the first, full-time African American female faculty member at Wake Forest when she was hired in the 1970s.
"I think there's increased interest in the themes and topics in African American Studies," Walker said. "The discipline has been in the Academy for over half a century, and its importance is underscored by the ways in which we're still wrestling with fundamental issues about how we live together and what it means to be human."
Dean of the College Michelle Gillespie heralded the new program.
"There couldn't be a more propitious time to start an African American Studies program in light of the raised consciousness of all Americans about structural racism and how it continues to play out today." Michelle Gillespie, Dean of the College
"The thing I love about our African American Studies program is the way it embraces everything about Wake Forest's liberal arts education," Gillespie said. "This program is about what it means to be human and reflects our mission, Pro Humanitate."
Gillespie hopes students from all demographics will take African American Studies courses and those who major in it will reflect racial, ethnic and socio-economic diversity.
Will Gardner, a sophomore politics and international affairs major from Wayland, Massachusetts, is enrolled in Walker's introductory course. He learned about the African Diaspora before transferring to Wake Forest this semester.
"When I decided to transfer to Wake, I knew I wanted to take African American Studies courses and … continue my passion for understanding race relations in America," Gardner said. "As a white student, I want to learn how I can make a difference in society and truly live up to Wake Forest's motto."
Sierra DeVeaux, a senior who plans to switch her major from sociology to African American Studies, is also enrolled in Walker's class.
"Last year, I took Dr. Walker's Black Radical Traditions course and Dr. William Mosley's Black Feminist Intimacies course and that was my first time really engaging with the humanities," said DeVeaux of Rockland, New York. "In class, Dr. Walker said African American Studies makes the audacious assumption that Black people are human, and that deserves emphasis because it dares students to think beyond the terms to which we're accustomed in many classroom settings. Whereas a lot of our discussions about Blackness are usually grounded in ways that make Black people the object, African American Studies dares to make Black people the subject."
Gillespie said Wake Forest's African American Studies program can become a national leader.
"Corey's vision is exciting and important and showcases the best of interdisciplinary thinking and research and learning," she said. "The program has the commitment of the administration, faculty and students."
Gillespie noted collaborations between African American Studies and other groups. For example, in November the program is partnering with the School of Divinity to bring renowned scholar, philosopher and activist Cornel West to campus, and also with the journalism department for a Zoom discussion titled "A Deep Dive in Race and Journalism" featuring Washington Post reporter Robert Samuels.
Next month, AAS, the Slavery, Race and Memory Project and Athletics will sponsor a public conversation titled "Race, Sports, and the Question of Democracy" with University of Kentucky associate professor Derrick E. White.
Additionally, Walker will collaborate with School of Divinity Associate Professor Derek Hicks, director of the Center for Research, Engagement and Collaboration in African American Life (RECAAL), on ways to introduce new ideas on African American Studies to the community. The goal for summer 2022 is to sponsor an African American Studies Summer Institute for Winston-Salem public school teachers and community leaders, with plans to eventually expand the institute to all Triad K-12 teachers to enhance student learning and to support public schools' curriculum.
2021-2022 Upcoming Events sponsored by African American Studies
Sundays in the fall — Conversations in Black Studies
A series of curated public conversations examining key issues in the discipline of African
American Studies, 7 p.m. via Zoom:
James Pope, Winston-Salem State University – September 12, 2021
Ed Whitfield, Cornell University Class of 1979 – September 19, 2021
Charlie E. Cobb Jr., SNCC Legacy Project – October 3, 2021
Other events:
February 2022
African American Studies, English and Wake Forest Humanities Institute
Lawrence P. Jackson, Johns Hopkins University
Symposium on the 70th Anniversary of Invisible Man by Ralph Ellison
March 2022
African American Studies, Leadership and Character and WakeTheArts
The Arts of Leadership: An Evening with Dr. Ronald A. Crutcher
April 2022
African American Studies and Women's, Gender and Sexuality Studies
Symposium on the 40th Anniversary of All the Women are White, All the Blacks are Men, But Some of us are Brave
Categories: Community in Progress, Faculty, Student, Top Stories
Wake Forest in the News
Wake Forest regularly appears in media outlets around the world.