Main Content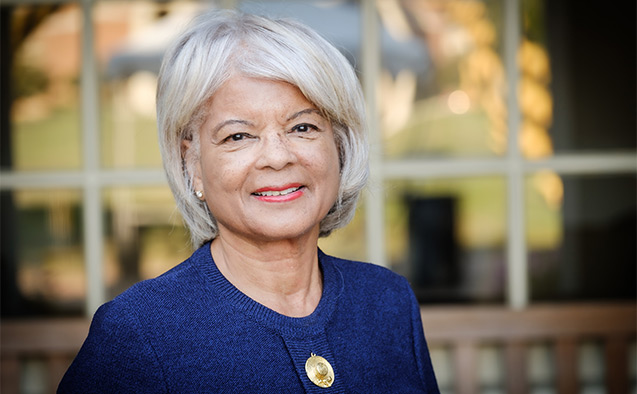 On Feb. 1, Beth Norbrey Hopkins and four other African American women will talk candidly about their experiences at Wake Forest in the early 1970s. The 9 a.m. panel discussion in Brendle Recital Hall commemorates the 50-year anniversary of the integration of women's residence halls at Wake Forest.
In 1969, Hopkins and Deborah Graves McFarlane became the first African American women students to live on campus.
Awilda Gilliam Neal and Linda Holiday also enrolled that fall as day students, then moved on campus in the spring of 1970. Camille Russell Love, a Winston-Salem native, enrolled as a day student that semester. The women graduated in 1973, except Holiday, who later completed her degree at nearby North Carolina A&T State University.
After the five women discuss their time at Wake Forest, they will be joined in conversation by several current African American female students in a panel organized by Malika Roman Isler ('99), assistant vice president for inclusive practice.
Saturday's sessions are part of a weekend of events planned to celebrate and honor these women. Recognitions for the women will begin during Thursday's Board of Trustees meeting and end Sunday during a service at a local African American United Methodist church.
"This week, Wake Forest is commemorating the contributions of five legends among us." José Villalba, vice president for diversity and inclusion and chief diversity officer
The significance of what Hopkins, McFarlane, Love, Neal and Holiday did cannot be overstated, Villalba said. "They simultaneously became the bedrock for generations of African American women who would come to call Wake Forest their academic home. Despite challenges they faced during their time at Wake Forest, they persevered and went on to become successful in their chosen fields. Our institution is indebted to these women, and we are grateful that this weekend they are going to share their personal and professional journeys with us."
Hopkins said she's excited about coming together on Wake Forest's campus with the women she blazed trails with five decades ago — as well as with other African Americans who attended Wake Forest during her era. Likewise, she looks forward to engaging with current African American female student leaders and discussing ways to continue making Wake Forest University more inclusive while recognizing the gifts black women have to share.
"This is a historic weekend and a great time for celebration," said Hopkins, Wake Forest's first African American homecoming queen.
"It is a time for renewal and reunification and a time for reflection." Beth Norbrey Hopkins ('73)
"I want to emphasize my journey from the time I entered Wake Forest through the time I retired from Wake Forest, given that in 1973 I put my hands on my hips and said I would never be back," said Hopkins. "I'm glad I returned, and throughout my time at Wake Forest, as a student and as an educator, I made some friendships that will be sealed forever."
Hopkins and the other four women have enjoyed successful careers.
The panel discussions will conclude with Donovan Livingston, assistant dean in the office of University Collaborations, performing spoken word to honor the women. Livingston delivered the spoken word poem, "Lift Off," about the hurdles that black people must overcome in today's education system, at a convocation of the Harvard Graduate School of Education. It became a viral sensation that has been viewed more than 13 million times.
After the panels, Hopkins, Love, Neal, Holiday and McFarlane will take a nostalgic tour of Bostwick Residence Hall before attending an AWFUBA-sponsored private reception in their honor in Angelou Residence Hall, named after Maya Angelou, a poet, author, actress and civil rights activist who taught generations of Wake Forest students as Reynolds Professor of American Studies from 1982 until her death in 2014.
Media are invited to attend Saturday's panel discussions, which run from 9-10:15 a.m. and from 10:30 a.m.-noon, and to accompany the women on their tour of Bostwick Residence Hall around 1:45 p.m. Hopkins, Neal, Neicy Meyers, a student leader, Villalba and Isler will be available for interviews immediately following the panel discussions.
Categories: Alumni, Community in Progress, Top Stories, Valuing Diversity
Subscribe
Sign up for weekly news highlights.
Subscribe