Main Content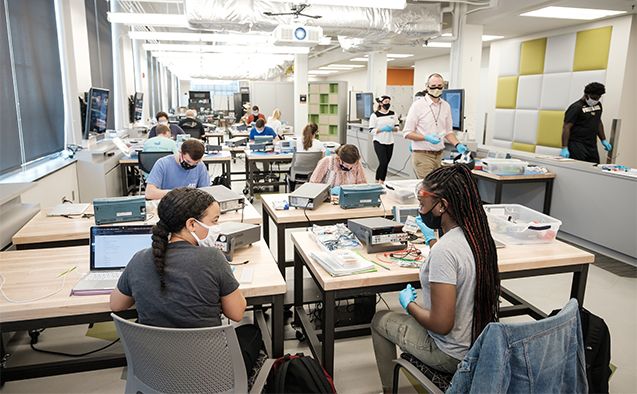 If crisis is the mother of invention, the need for socially conscious engineers whose work is guided by strong ethical values and practices has never been more evident than in the fight against COVID-19. Engineers have demonstrated virtues such as creativity, perseverance and service while developing practical solutions such as hand sanitizer produced by distilleries, masking efforts led by apparel companies and personal protective equipment distributed by vending machines.
Prior to the urgent challenges presented by the pandemic, Wake Forest University faculty have been elevating the importance of virtue and character in its undergraduate engineering program, with the support of the Kern Family Foundation and the Kern Entrepreneurial Engineering Network (KEEN).
Since 2019, the Foundation has awarded more than $700,000 – including a recent two-year grant of $557,140 – to support Wake Forest's pioneering vision for the future of engineering education, which includes an emphasis on instilling entrepreneurial mindset and developing the character of engineering students.
Specifically, the new two-year grant brings together faculty in the Department of Engineering and Program for Leadership and Character to teach a new generation of engineers who lead with virtue and create value for the clients and communities they serve.
"We are grateful for KEEN and the Kern Family Foundation's continued support of Wake Forest's vision for reimagining engineering education, as well as our institutional focus on educating students who continually demonstrate moral leadership, commitment and purpose," said Olga Pierrakos, Founding Chair and Professor, Department of Engineering.
"As industry demands more versatility and adaptability in professional engineers, our students are equipped to apply engineering fundamentals across a variety of disciplines and empowered to be virtuous leaders and ethical change agents in the spirit of our Pro Humanitate motto." Olga Pierrakos, Founding Chair and Professor, Department of Engineering
Wake Forest is uniquely positioned to embark on such an effort that transcends traditional boundaries between STEM and the humanities. Over the last decade, the University has been a national leader in the study of character and has been awarded a total of more than $15 million for related research. In 2017, Wake Forest boldly established the nation's only B.S. in Engineering program offered by an undergraduate-only department with a curriculum grounded in a liberal arts tradition at a research university.
The Foundation's support will make possible an interdisciplinary approach that includes:
Hiring two post-doctoral fellows, philosopher Joe Wiinikka-Lydon and engineering education researcher Adetoun Yeaman, as well as a graduate student in psychology to support the project;
Developing learning modules that enrich entrepreneurial mindset and character development;
Providing professional development for all engineering faculty;
Sharing and disseminating knowledge beyond Wake Forest;
Forming an external advisory board that includes renowned engineers, philosophers, historians and educational researchers; and
Enriching the national conversation and participating in a conference on character in the professions that Wake Forest is convening March 18-20, 2021 (details forthcoming).
Ultimately, Wake Forest aims to disseminate a model for engineering education that can be adapted or adopted by others.
"I have been so encouraged and impressed by how creative and committed Wake Forest engineering faculty have been in integrating character throughout the curriculum," said Michael Lamb, Executive Director of the Program for Leadership and Character and Assistant Professor of Politics, Ethics, and Interdisciplinary Humanities.
"Because of our collaboration and the generous support of the Kern Family Foundation, we have an opportunity to educate engineers in a way that is both innovative and transformative." Michael Lamb, Executive Director of the Program for Leadership and Character and Assistant Professor of Politics, Ethics, and Interdisciplinary Humanities
Pierrakos leads the project as principal investigator (PI). With the larger scale and scope associated with the latest grant, Associate Professor Michael Gross has joined Lamb as Co-PI to support virtue module development and dissemination.
Two Faculty Named Engineering Unleashed Fellows
Additionally, Assistant Professors of Engineering Erin Henslee and Lauren Lowman have been named as 2020 Engineering Unleashed Fellows. They are part of a 29-person cohort nominated by their peers from colleges and universities across the country for their contributions to engineering pedagogy and entrepreneurial engineering mindsets.
The Engineering Unleashed Fellowship, which includes funding for both faculty members to advance specific project work at Wake Forest, is powered by KEEN, which includes more than 50 partner institutions and more than 3,000 engineering faculty members.
Both Henslee and Lowman came to Wake Forest in 2018, and the Engineering Unleashed Fellowship will create further opportunities for the two to achieve academic excellence inside the classroom, through top-notch research methods, and outside the classroom, with an extensive network. As a Fellow, Henslee is interested in developing curricula that sustainably meet the changing needs of the engineering profession and students with a focus on "making with purpose." Lowman is focused on bridging the gap between engineering and liberal arts to encourage students to see the broader societal implications of engineering. Read more about their honor.
"Leveraging faculty development opportunities within KEEN, they have demonstrated instructional vitality and pedagogical innovation in the classroom and a commitment to empowering their students each step of the way," said Pierrakos.
Establishing a Common Language
What is an Entrepreneurial Mindset?
According to KEEN, an entrepreneurial mindset empowers people to question, adapt, think differently, and make positive change. It consists of three key elements: Curiosity, Connections, and Creating Value (the 3Cs).
What is Character?
Character is "the collection of stable, deep, and enduring dispositions that define who we are and shape how we characteristically think, feel, and act."
What are Virtues?
Virtues are morally good habits that enable us to think, feel, and act for the right reasons in the right ways in the right contexts.
Sources: KEEN and Michael Lamb, Jonathan Brant, and Edward Brooks, "How Is Virtue Cultivated?: Seven Strategies for Postgraduate Character Development," Journal of Character Education, 17, no. 1 (forthcoming 2021).
Categories: Faculty, Student, Top Stories
Wake Forest in the News
Wake Forest regularly appears in media outlets around the world.