Main Content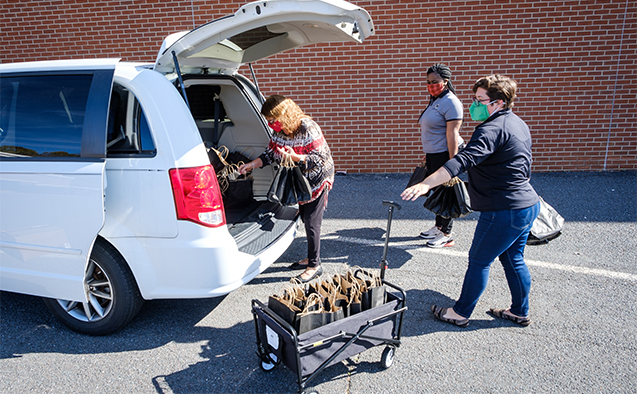 An effort led by Wake Academy has provided 500 STEM and art kits to two Winston-Salem elementary schools.
A Wake Forest University student organization, Wake Academy focuses on hands-on activities and tries to make learning fun, said President Sara Hong. Before the COVID-19 pandemic, Wake Academy partnered with Kimberley Park Elementary School on select Saturdays throughout the semester, doing science experiments, arts and crafts and physical education activities. Now students tutor area children virtually through the Office of Civic and Community Engagement (OCCE).
"Virtual tutoring is good, but I felt as though we weren't staying true to our mission and thought it'd be great if we provided kits for a hands-on activity." Sara Hong ('21)
Under Hong's direction, Wake Academy received funding that will enable students at Cook Literacy Model School to have gooey fun while channeling their inner chemist by mixing glue, contact solution, baking powder, shaving cream and food coloring to make slime. Kimberley Park students will get to try their hands at being the next Georgia O'Keefe by using paint brushes and brightly colored tissue paper to create a beautiful, autumn sunset.
Currently in Winston-Salem/Forsyth County Schools, pre-K and kindergarteners are learning in the classroom while students in grades first through fifth are learning remotely. Kimberley Park students who are learning remotely will receive their art kits when their parents pick up their weekly materials, said Principal Diamond L. Cotton.
At Cook Literacy, Principal Paula Wilkins said the STEM kits will be given out, via drive-thru, during the school's Thanksgiving Holiday meal drive Nov. 23 and 24. Families will receive the kits and have an "at-home" science activity. Students in the classroom will complete the slime activity either next week or after Thanksgiving break, she said.
On Nov. 6, Camry Wilborn, assistant director, community engagement in the OCCE, and Shelley Sizemore, the OCCE's director of community partnerships, delivered 250 art kits to Kimberley Park Elementary School and 250 STEM kits to Cook Literacy Model School. An additional 25 kits were taken to Cook this week to accommodate all of its students.
Besides Wake Academy and the OCCE, the initiative was supported by Wake Downtown and the Student Activities Fund.
"To provide a much-needed resource to schools and families during this time was remarkable." Camry Wilborn, assistant director, community engagement in the OCCE
"I'm proud of how our students and University were able to quickly pivot in the midst of a global pandemic to imagine creative ways to support Kimberley Park and Cook, and their staff was extremely grateful and ecstatic about the kits," said Wilborn.
Hong, who is double majoring in health and exercise science and politics and international affairs, came up with the idea for a slime activity for the STEM kits. Anusha Samant, a junior from Reston, Virginia, and Wake Academy's vice president for education, decided on watercolor for the art kits.
"Slime is fun for kids to play with, and we thought it'd be neat given Halloween just occurred," Hong said. "We included detailed instructions on how to make slime, the science behind it and questions for the students to research."
Samant said she thinks parents will appreciate receiving "a fun, educational activity for their kids that's already prepared." Samant, a health and exercise science major, said she and Hong are grateful to Annie Choi, Wake Academy vice president of operations, Isabel Handa, treasurer, and other Wake students who volunteered to help compile the kits.
Cotton of Kimberley Park said she's excited about any opportunity to partner with the community to support academic learning for her students.
"In the classroom, it's very difficult sometimes to have all of the materials you need to actively engage students in learning, so the art kits provide us that opportunity to expose our children to things that they may not be exposed to otherwise," Cotton said."I'm just thankful that our community partners, and especially Wake Academy, are thinking outside the box and not using the pandemic as an excuse to not support our children."
Wilkins also expressed gratitude to the Wake Forest students. "Anytime we can make sure that learning can be engaging that is a plus," Wilkins said. "It's a plus for learning and a plus for students to be excited about what they're learning, and the kits accomplish both."
Categories: Pro Humanitate, Student, Top Stories