Main Content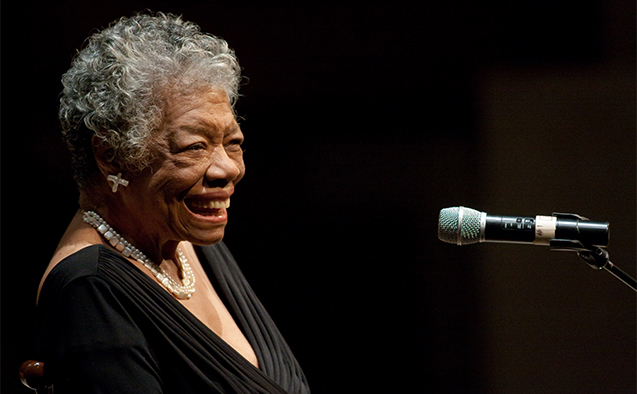 To recognize the poet, actress, author, singer, teacher and civil rights activist who has inspired people worldwide and taught generations of Wake Forest students, the University will establish the Maya Angelou Artist-in-Residence Award.
The new award will honor world-renowned artists who reflect Maya Angelou's passions for creating, performing and teaching. The award will celebrate exceptional artists for combining achievement in the arts and a commitment to improving the human condition in the spirit of the University's motto, Pro Humanitate. The award winners will visit Wake Forest to educate and engage students, as well as collaborate with faculty.
"The significance and beauty of this award is that it honors the life and life's work of my Mother while inspiring artists who have demonstrated a powerful commitment to uplifting humanity through exercising virtues she lived by: courage, creativity, hope, tolerance and social activism." Guy Johnson, Dr. Angelou's son
"To honor her legacy, we must look upon ourselves and ask – 'What are we doing to improve the human condition?'" Johnson said.
Additional details about the award and the nomination process will be announced in the fall of 2021. The first Wake Forest Artist-in-Residence Award will be made in the spring of 2022.
"Dr. Angelou taught students – as she taught her readers worldwide – that artistic expression is at the heart of human courage, renewal and liberation. Artists honored with this award bearing her name will reflect that commitment, in their work as in their lives. " Rogan Kersh, Wake Forest Provost
"Their engagement with students and other community members will further affirm the 'wonder-working power' of the arts, to quote a favored Dr. Angelou phrase, on our campus," Kersh added.
Honoring a Legacy
A generous gift from a Wake Forest alumnus will provide funding to launch the award.
Angelou first came to Wake Forest in 1973 for a speaking engagement, starting what would become a long relationship with the University. Wake Forest awarded Angelou an honorary degree in 1977. She was named the University's first Reynolds Professor of American Studies in 1982 and continued teaching at Wake Forest until her death in 2014.
Angelou would have celebrated her 93rd birthday on April 4.
Over the past four months, a committee has worked to create the framework for the award. Wake Forest junior Adarian Sneed has represented the student perspective for that group. "Her legacy on this campus gives inspiration for the present and hope for the future," she said. "She understood and could empathize with people from all walks of life. Furthermore, her life's work could touch the hearts of so many different people. I want the winner of this award to hold true to Maya Angelou's light," said Sneed, who is a theater and business student and was in 7th grade when her grandmother encouraged her to read Maya Angelou's I Know Why the Caged Bird Sings.
As the personification of Angelou's philanthropic legacy, the Dr. Maya Angelou Foundation has collaborated with Wake Forest in support of this meaningful tribute and most prestigious honor for artist awardees. Guided by Dr. Angelou's vision of "…sharing in the glory of a good life, lived joyously," the foundation's mission is to activate positive change and inspire the next generation of critical thinkers, creative writers and courageous leaders through innovative programs rooted in greater access to education, equality, and justice for all.
Maya Angelou: Artist and Teacher
In a 2008 interview, Angelou talked about her love of teaching: "I'm not a writer who teaches. I'm a teacher who writes. But I had to work at Wake Forest to know that."
Over the years, she taught a variety of humanities courses, including "World Poetry in Dramatic Performance," "Race, Politics and Literature," "African Culture and its Impact on the U.S.," "Race in the Southern Experience" and "Shakespeare and the Human Condition."
Angelou had immense creative energy for teaching and artistic endeavors. In 1985, she directed an innovative production of "Macbeth" for the Wake Forest University Theatre. President Bill Clinton invited Angelou to present a poem at his first inauguration in 1993; her poem "On the Pulse of Morning," was later set to music by Wake Forest's composer-in-residence Dan Locklair. Angelou narrated the premiere performance in Wait Chapel.
Angelou is the author of more than 30 books of fiction and poetry, including her powerful autobiographical account of her early life in Stamps, Arkansas, I Know Why the Caged Bird Sings (nominated for a National Book Award), and six other autobiographical books. This year, a group of Wake Forest alumni hosted a virtual celebration honoring 50 years of Caged Bird's influence in American culture. Her volume of poetry, Just Give me a Cool Drink of Water 'Fore I Die (1971), was nominated for a Pulitzer Prize. In 2012, Business Insider magazine named Angelou to its top 10 list of the most famous college professors.
In recent years, Angelou donated movie scripts, drafts of plays and other materials related to her work in film, television and theater to Wake Forest's Z. Smith Reynolds Library. Many of the materials are handwritten on legal pads or in notebooks with handwritten margin notes or corrections. Highlights include the movie scripts for "Georgia, Georgia" (1972) and "Down in the Delta" (1998). The University named a residence hall in Angelou's honor that was dedicated in 2017.
Categories: Admissions, Community in Progress, Recognition, Top Stories
Wake Forest in the News
Wake Forest regularly appears in media outlets around the world.