Main Content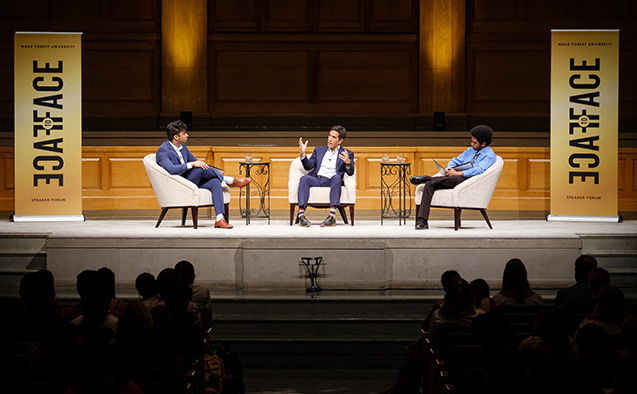 As part of the University's Face to Face Speaker Forum, neurosurgeon and CNN medical correspondent Dr. Sanjay Gupta fielded student questions at a special program in Wait Chapel.
Scholars from the University's Program for Leadership and Character, senior health and exercise science major Akshey Suresh and sophomore psychology major Austin Torain, led the moderated session.

Dr. Gupta, associate chief of neurosurgery at Grady Memorial Hospital and an associate professor at Emory University Hospital in Atlanta, is also a columnist for Time magazine, and a contributor to CBS News. The moderators asked questions about Dr. Gupta's work as both a doctor and a journalist.
"The bifurcated life I have didn't really exist when I decided to study medicine," he said. "Medicine and media have a lot in common. They are both focused on helping people."
He advised students to look for connections and follow their passions "because the world is changing so fast – many of the jobs students will have don't exist yet."
Dr. Gupta addressed questions on social media and the difference between misinformation and disinformation and described social media as like Westworld. "We don't know what's real anymore," he said.
Don't commingle things that might cause trust to fade, Dr. Gupta advised. "Scientific information given from the White House associates medicine with politics." 
He emphasized dialogue and discussion as an effective measure in combating mistrust.
"When people have questions or misgivings or are curious about something, I have those discussions. Some people are chaos creators but for others, the dialogue is critically important. We don't move forward as a society unless we have dialogue and discussion." 
Students also asked questions about South Asian representations in media, work-life balance and how the U.S. might respond during the next pandemic
Dr. Julie A. Freischlag, Chief Executive Officer of Atrium Health Wake Forest Baptist, Dean of Wake Forest School of Medicine, and Chief Academic Officer of Atrium Health Enterprise led the discussion with Dr. Gupta at the keynote Face to Face Speaker Forum event later in the evening.
The community-facing Face to Face Speaker Forum brings world-renowned, influential voices to Winston-Salem to discuss topics in a variety of areas including politics, arts and culture, business and social justice. 
The lineup for the 2022-23 Face to Face Speaker Forum was announced at the event. George W. Bush, 43rd President of the United States and Presidential historian and Pulitzer Prize-winning author Jon Meacham will launch the series in September – sharing the stage for an exclusive conversation on the challenges facing our nation in the 21st century.
New season subscriptions will go on sale May 1. Season subscription renewals will be available beginning the week of April 18.
Categories: Top Stories
Wake Forest in the News
Wake Forest regularly appears in media outlets around the world.