Main Content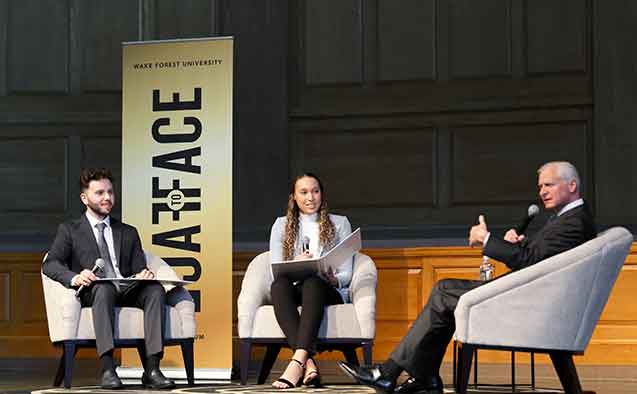 Wake Forest students and students from other area schools gathered for an hour-long Q&A with Presidential historian and Pulitzer Prize-winning author Jon Meacham.
The student-facing event, a unique feature of Wake Forest's Face to Face Speaker Forum, was held prior to the main event – a conversation between Meacham and George W. Bush, 43rd President of the United States.
Meacham, the author of numerous biographies of past presidents including Thomas Jefferson, Abraham Lincoln, and George H. W. Bush, addressed questions about the challenges of writing historical biography and whether it is possible to be neutral during the process.
"The idea that a historian or biographer is neutral, I don't know what neutrality means. Writers of nonfiction go into the past, find the best most authentic sources they can, and attempt to make something new," Meacham said. "I hope to be fair enough, open-hearted enough, proportioned enough. I hope that if Franklin Delano Roosevelt or Thomas Jefferson read my work they would think it was fair."
In talking about the Constitution, Meacham described how unchecked human nature will "take what we want when we want." The Constitution asks us to use our minds for the greater good.
"Our personal behavior is a microcosm of the larger representation of the nation," he said.
When asked about the character traits America's greatest presidents had in common, Meacham named curiosity, candor and empathy.
This Face to Face Speaker Forum event was presented by Wake Forest University's School of Business Allegacy Center for Leadership and Character, with scholars from the program taking the stage to lead the moderated session. Finance major Rashad Raad and business and enterprise management major Olivia Summiel, both seniors, took turns leading the conversation.
Raad noted important takeaways related to the ability to understand and share opinions and insights. "To have empathy is to go beyond its definition. Meacham spoke about empathy being one of the best qualities to look for in a president, but I also think it's a quality to strive to find in people generally."
Junior Spencer Mckenzie, a double major in English and environmental science major who attended the program, said, "I was interested in Meacham's comments about the increasing polarization of the American public regarding not only politics but the ways in which we reflect on history as well." 
The community-facing Face to Face Speaker Forum brings world-renowned, influential voices to Winston-Salem to discuss topics in a variety of areas including politics, arts and culture, business and social justice. 
All students attending the Q&A event were invited to attend the Face to Face Speaker Forum for free.
Categories: Top Stories
Subscribe
Sign up for weekly news highlights.
Subscribe