Main Content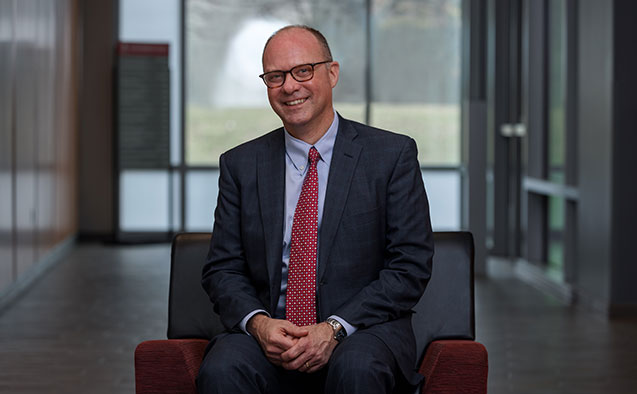 Andrew R. Klein, a highly accomplished legal scholar and administrator recognized for his teaching, leadership and service, will become the next dean of the Wake Forest University School of Law. 
Klein, currently interim chancellor of Indiana University-Purdue University Indianapolis (IUPUI) and executive vice president of Indiana University, will join the Wake Forest community July 1. He served as dean of Indiana University's McKinney School of Law from 2013 to 2020.
"Professor Klein's exemplary legal and administrative career along with his demonstrated commitment to service and teaching, have prepared him well to lead Wake Forest Law at this important time," said Wake Forest University President Susan R. Wente. "He will bring the  vision and experience necessary to keep the law school at the forefront of legal education. I am delighted to welcome him to our community."
Klein will oversee the University's nationally ranked School of Law, which was founded in 1894. He said he was drawn to Wake Forest's history as well as its commitment to innovation.
"Wake Forest is an extraordinary institution," Klein said. "I could not be more excited about becoming part of a place with such a long and distinguished record of training excellent lawyers and outstanding leaders. I look forward to honoring the  school's best traditions, building on its successes and ensuring a future as bright as its past."
Klein is a gifted teacher of tort and environmental law who has won numerous awards, including ten teaching awards from students, three faculty leadership awards, two outstanding administrator awards and the Indiana University Trustees Teaching Award. For his years of service to IUPUI and to the McKinney School of Law as dean, Klein was honored with an IU Bicentennial Medal in 2019 and a Chancellor's Medallion in 2021.
Michele Gillespie, Wake Forest provost, led the search committee. 
"Andy Klein is a superb leader and a powerful consensus builder," Gillespie said. "The committee was impressed with Professor Klein's unwavering commitment to student, faculty and staff  success, as well as his passion for preparing ethical leaders to work in the legal profession. He is the right leader at the right time to take Wake Forest's School of Law to even greater heights."
During Klein's time as dean at McKinney, the school established 43 new student scholarships, fellowships and awards and created a number of student externships to expand opportunities for experiential learning. Applications rose by nearly a third during his tenure. 
A champion for diversity and inclusion, Klein and his colleagues partnered with The American Bar Association to launch the Pathway to the Law online program, designed to expose college students from diverse backgrounds to the possibility of pursuing a legal education. He also secured a pioneering $4 million gift for the School of Law in support of LGBTQ rights and diversity. 
Klein has also been recognized by both the Indiana State Bar Association and the Indianapolis Bar Association for service to the profession. 
An active scholar, Klein has published articles in leading law journals and has co-authored two casebooks and a student-oriented textbook. He is a member of the American Law Institute and has served as reporter for the Seventh Circuit United States Court of Appeals Civil Jury Instructions Committee. He is a Distinguished Fellow of the Indianapolis and Indiana Bar Foundations.
Klein clerked for Judge Joseph Hatchett of the Eleventh Circuit U.S. Court of Appeals and was an associate for Sidley & Austin in Chicago before he began his teaching career at Samford University's Cumberland School of Law. His professional and community service has included the Indiana Supreme Court Commission on Race and Gender Equity; the Indianapolis Legal Aid Society; the Law School Admissions Council Diversity Committee; and the Board of Directors for the Madame C. J. Walker Legacy Center.
He earned his bachelor of arts from the University of Wisconsin and his J.D. from Emory University School of Law, where he studied as a Robert W. Woodruff Fellow in Law and was editor-in-chief of the Emory Law Journal. 
Klein will join the Wake Forest community with his wife Diane Schussel. They have two grown sons.
Categories: Top Stories
Wake Forest in the News
Wake Forest regularly appears in media outlets around the world.