Main Content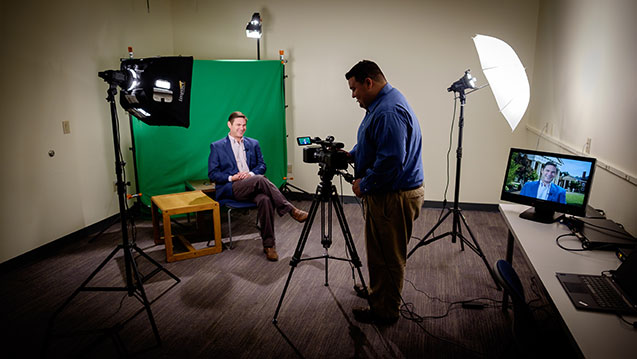 Wake Forest University's Office of Communications and External Relations operates a fully equipped, professional television and radio studio to connect faculty members and campus newsmakers with global news media.
By showcasing its world-class faculty and staff experts in formats that can reach millions of people around the world, the University will further elevate its national reputation and distinction of being consistently ranked among the nation's top-30 universities.
The broadcast studio is conveniently located in the heart of campus in the Z. Smith Reynolds Library and provides live video and audio capability.
Television
Video interviews can be coordinated through LTN Global Communications' Smartcloud IP video transport service that provides regular high-quality video transport connections to most major broadcast networks.
The studio transmits a 1080i, high-definition signal using technology from LTN Global Communications
Sony PXW Full HD Camera
Controlled environment for video interviews
Custom backdrops and TelePrompTer are available
B-roll video capability
Radio
Audio interviews are coordinated through ipDTL, an IP codec used for remote radio broadcasts as well as voice-overs. ipDTL replaces classic ISDN audio codecs and has backward compatibility.
High-quality audio via ipDTL IP streaming
2-person interview setup for radio interviews, podcasts and voiceovers
Shure SM7B microphones, Scarlett 6i6 interface, Cloudlifter CL-2 Mic Activator
Wideband, low-delay OPUS audio codec
Peer to Peer data connection
Automatic NAT traversal
To set up an interview, contact a member of the news team. The entire team can be reached at media@wfu.edu and someone will respond to the request promptly. A staff member is on call 24/7 for media requests at 336.758.5237.
The studio operates during regular business hours, Monday through Friday. Early morning or weekend requests will be handled based on staff and expert availability.
More about LTN technology
LTN's unique, patented technology – SmartCloud solution – was designed to combine the reach and flexibility of the Internet with the quality and reliability of a private network. It has the ability to deliver HD and SD video content globally and cost-effectively, utilizing a highly redundant and controlled network, designed specifically to provide media content from any place to any number of locations around the world.
The LTN appliance receives media content via a dedicated encoder. A single HD camera with embedded audio will connect to the encoder with a serial digital interface (SDI). The Fujitsu IP-900 HD/SD encoder utilizes advanced H.264 encoding for bandwidth efficient real-time transmission of digital media content over the IP network. The appliance connects to the Internet edge and is remotely monitored and managed on a 24/7 basis by LTN. Questions for LTN should be directed to their support line at 1.240.855.0004 or support@ltnglobal.com.
Wake Forest in the News
Wake Forest regularly appears in media outlets around the world.