Main Content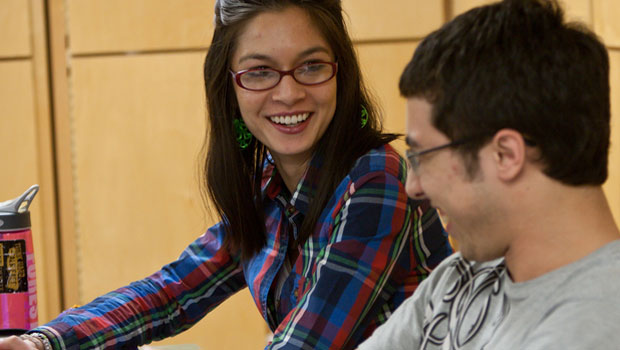 Wake Forest senior Francisco Bencosme, a veteran debater in high school, is one of the top Latin-American college debaters in the nation. Senior Jon Zaikowski, who never debated before coming to Wake Forest, won his first varsity tournament at the University of Florida in February.
As first-year students, they were welcomed on the debate team at exactly the same level. Both paid their dues and both found success.
"Working my way up the ranks, helping out seniors who were above me, sometimes it was difficult – especially seeing others travel to tournaments before me. But I earned my place on the team with hard work and determination," says Bencosme.
"Joining the debate team without any experience and learning all the ropes was hard," says Zaikowski. "But my partner, Odile Hobeika, a senior when I was a first-year debater, taught me what I needed to know. She helped me in the rounds, and never lost patience with me."
Bencosme and Zaikowski started with different levels of experience, but they both made major contributions to the University's nationally competitive debate team during their four years at Wake Forest.
"Preparing for a debate year is the equivalent of writing a master's thesis," says Director of Debate Jarrod Atchison. "Debaters pore over the daily news, track blogs and follow every angle to produce superior arguments using the best and most up-to-the-minute information available."
In addition to creating the best arguments, success in debate depends on group synergy and effort, and Wake Forest debate is widely regarded as one of the best programs in the country. This year, the team won two first-round at-large bids to the 2012 National Debate Tournament to be held March 29 through April 2 at Emory University.
"In any given year, 400 to 450 individual teams compete for 16 positions in this first round," says Atchison. "That Wake Forest debate earned two of these spots is a sign that our debate team is very deep. We are not relying on just one good person."
In July, when the topic for the college debate season is announced, the fun begins. Wake Forest's 24 debaters (including eight women and six debaters of color) have, over the course of the year, become experts on U.S. government policy in Bahrain, Egypt, Libya, Syria, Tunisia and Yemen. Each debater is prepared to argue whether or not the U.S. should increase democratic assistance for each of these six countries. Teams find out only 30 minutes before the tournament begins which country and which position they will argue.
"There are two sides to every issue, and our debate preparation discussions require an open mind," Zaikowski says. "Arguments that initially seem nonsensical or even shocking can actually turn out to be smart and persuasive."
Thousands of pieces of information are collected and compiled by debate teams as they write their arguments for tournaments. Atchison hopes to make these position papers available to a wider audience by launching a bipartisan think tank. "Making policy briefs available that present arguments on both sides of the controversial topics we debate year in and year out will help improve civic discourse and would be of specific interest to Washington policymakers."
Categories: For Alumni, For Parents, Student, Top Stories, Wake Forest College
Subscribe
Sign up for weekly news highlights.
Subscribe