Main Content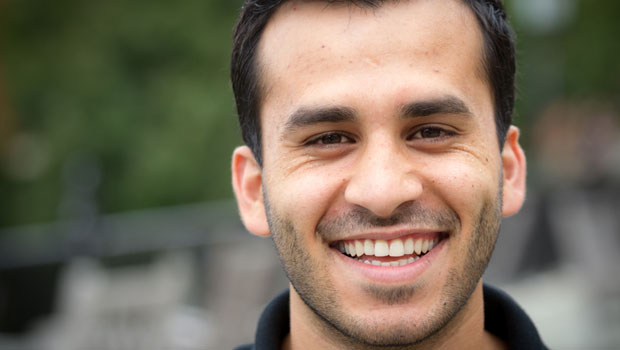 The 2014 World Cup in Rio de Janeiro is just over one year away. But while fan excitement builds, 170,000 Brazilians may be relocated from their homes as the city makes room for construction and infrastructure projects to accommodate the millions of expected visitors.
It's a story that might not make the news without help from foreign correspondent Jawad Wahabzada, a graduating senior who was recently named a fellow for the Pulitzer Center on Crisis Reporting. The journalism program at Wake Forest is a member of the Center's Campus Consortium, which brings foreign correspondents to campus and provides funding for the fellowship.
This August, Wahabzada will travel to Rio de Janeiro to film a short documentary about Betto Guaraciaba and his work with children living in the favelas, many of whom will be affected by the loss of their family homes as shantytowns are destroyed to prepare for the World Cup.
A retired boxer and now a photographer, Guaraciaba began his life in the streets of the favelas. He now dedicates his time to impoverished children, teaching them to box, giving them hope and keeping them away from drugs and violence.
"Through the eyes of Betto, I plan to explore how the World Cup preparations are affecting the residents of Rio de Janeiro's favelas as families are forced out of their homes. I hope to present an original perspective to this issue from the eyes of those who have experienced it firsthand."
Wahabzada is Wake Forest's second recipient of the Pulitzer Center for Crisis Reporting's student fellowship. Majoring in communications and minoring in film and religion, he is an experienced documentary filmmaker whose previous work, "Children of Kabul," has been mentioned on CNN iReport and CNN Backstory. Wahabzada's proposal was selected from among many strong applications with assistance from staff members at the Pulitzer Center in Washington.
"Jawad will be working one-on-one with a Pulitzer Center editor on a multimedia project that will include blog posts, photographs, stories and a short film. His work will be published on the Pulitzer Center website and possibly in national news outlets," says Justin Catanoso, director of Wake Forest's journalism program. "He'll receive mentoring on how to refine his work and prepare a final story that will inform and inspire. It's a fantastic opportunity."
The Pulitzer Center on Crisis Reporting is an innovative award-winning non-profit journalism organization dedicated to supporting the independent international journalism that U.S. media organizations are increasingly less able to undertake. The Center focuses on under-reported topics, promoting high-quality international reporting and creating platforms that reach broad and diverse audiences. The organization is based in Washington, D.C.
The University's affiliation with the Pulitzer Center on Crisis Reporting is made possible through funding from Wake Forest's Office of Global Affairs.
Categories: Campus Life, For Alumni, For Parents, International, Student, Top Stories, Wake Forest College
Subscribe
Sign up for weekly news highlights.
Subscribe