Main Content
You don't have to be a rocket scientist or an engineer to understand the impact over a Google employee's anti-diversity memo, which was widely dismissed for suggesting that biological differences in men and women are to blame for gender diversity gaps in tech.
The tech giant has since fired the engineer who penned the 10-page manifesto for Code of Conduct violations and the CEO has cut his vacation short to deal with the fallout.
Gender, racial, socioeconomic and other equity gaps in STEM-related careers are more than a "pipeline problem." That being said, what are colleges and universities like Wake Forest doing to help close these gaps?
Mentors like me
Wake Forest University's undergraduate engineering program has a precedent-setting faculty that is 75 percent female when its inaugural classes begin later this month. That's significant, especially when compared to a 15.7 percent of engineering faculty across American universities, according to the latest available statistics from the American Society for Engineering Education (ASEE). Previously, the ASEE ranked Seattle Pacific University first at 66.7 percent.
"The motivations to diversify the student population in engineering have been at the core of what I've experienced as a woman going through this journey as an undergraduate student, graduate student and even as a faculty member," said Olga Pierrakos, founding chair of the department of engineering. Pierrakos was born in Greece and came to the U.S. at the age of ten.
"Hiring the right people who value and respect diversity of expertise and diversity of people and experiences will be key in ensuring a sense of belonging as well as innovation." Olga Pierrakos, founding chair of the department of engineering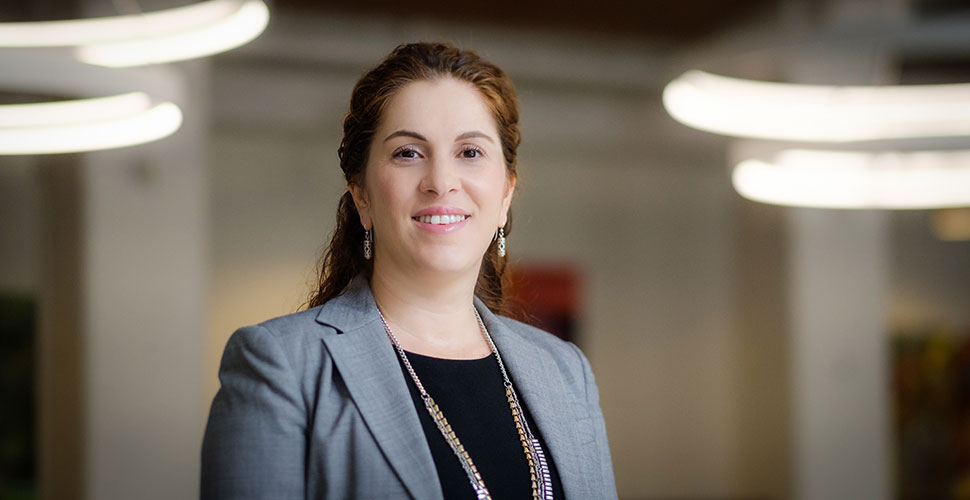 At the Georgia Institute of Technology, Ayanna Howard is the nation's most senior African-American female roboticist in higher education – another example of the lack of females in the field.
"It always surprises me. If robots are truly being built so everyone can use them, how can roboticists figure out what's needed for half the population if women aren't represented very well in the design process?" Howard asked. "Our field must be reflective of the consumer market."
At U.C. Berkeley, postdoctoral scholar Morgan Ames helped create a tech-savvy camp to teach predominantly low-income African-American and Hispanic children in Richmond, Calif., how to code using the popular video game Minecraft, as profiled on NPR this week.
Strength in numbers
Recent research funded by the National Science Foundation (NSF) found that befriending another female student in class gives women in STEM a big boost.
First-year female students earn a higher grade and declare an engineering major when paired with at least one other female for group projects in introductory college engineering classes, according to a new report by researchers at Wake Forest and Purdue Universities.
"When you're working on a project with people who are more like you, it makes you feel comfortable." Amanda Griffith, an associate professor in economics
"That connection can be powerful and could point to something about similar learning processes," said Griffith, who specializes in challenges facing women in STEM programs.
The good news is that partnerships should come more naturally as the enrollment of women in some STEM-related programs increases. At Wake Forest, enrollment of women in computer science programs grew to 32 percent in 2016 from 26 percent in 2013. Last year, 23 percent of Georgia Tech's computer science students were female. The national average is about 18 percent, according to the NSF.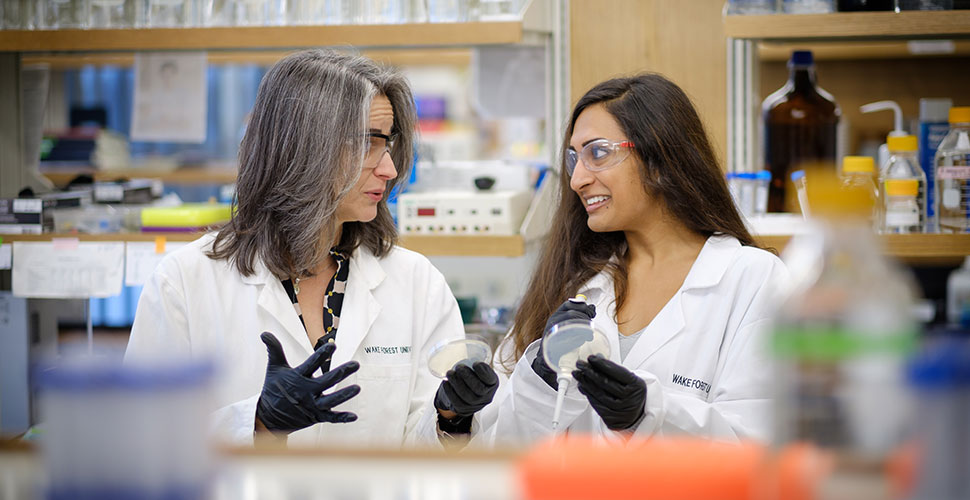 Leading by example
When it comes to encouraging women to pursue STEM degrees and careers, Wake Forest is making progress, but university leaders still see so much more to accomplish.
"We need to constantly – individually, departmentally and institutionally – develop programs to get more support for equity in STEM fields," said Michele Gillespie, Dean of the College.
She has asked each STEM-focused department to analyze its diversity at the undergraduate, graduate and faculty level, and look at how to attract more women and underrepresented minorities in the areas that need improvement.
"It is important that women have the same representation in STEM fields that they have in the general population," Gillespie said.
"Women bring all kinds of significant knowledge, understanding and innovative perspectives to the work they do, just like men do." Michele Gillespie, dean of the College
"But we don't have a culture that encourages young girls to know what computer science is about, to know what engineering is about, to have the skills needed for technology design," she said.
One way to change things: faculty leadership across disciplines. Diversity in STEM has been a recruiting priority under Gillespie's leadership. In addition to hiring Olga Pierrakos to lead the new Department of Engineering, Susan Fahrbach leads the Biology Department; Gloria Muday is Director of the Center for Molecular Signaling; and Chemistry Professor Rebecca Alexander is Director of Academic Programming for Wake Downtown in the Wake Forest Innovation Quarter.
Having a lasting impact on students seems to come down to positive connections in many cases.
"Thinking carefully about the experiences women and underrepresented minorities are having in the classroom is important in terms of keeping them in the STEM major," said Griffith, the economist. "When faculty can create something positive and supportive, these students might be more likely to stay."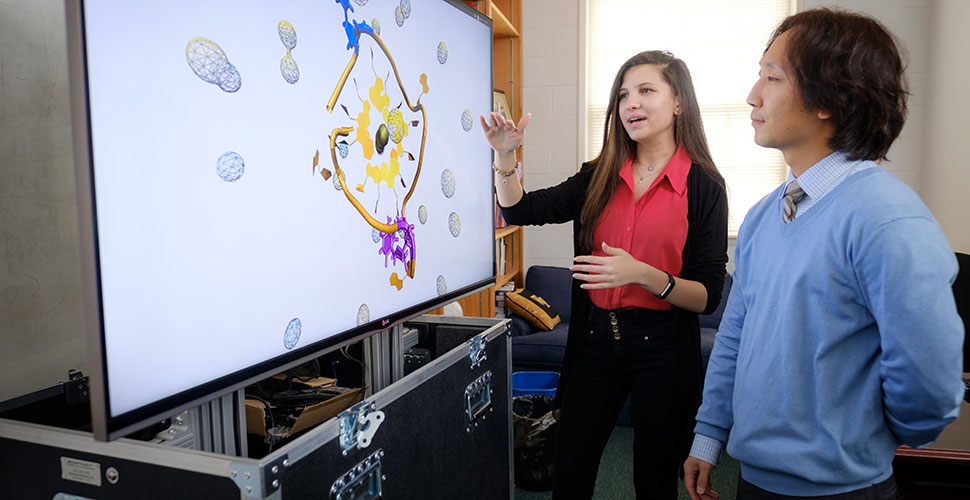 Such connections have led to success for computer science graduate student Melisa Carranza Zuniga, who won a scholarship in 2016 to attend the prestigious Grace Hopper Celebration of women in computing, and biophysics major Manal Ahmidouch, who received a scholarship to speak on a panel at the international Annual Biophysical Society Meeting in 2017.
Ahmidouch said Sam Cho, Associate Professor of Physics and Computer Science, is always involved – even if it's answering an email late at night.
"Dr. Cho is amazing," she said. "I think he believed in me before I believed in myself."