Main Content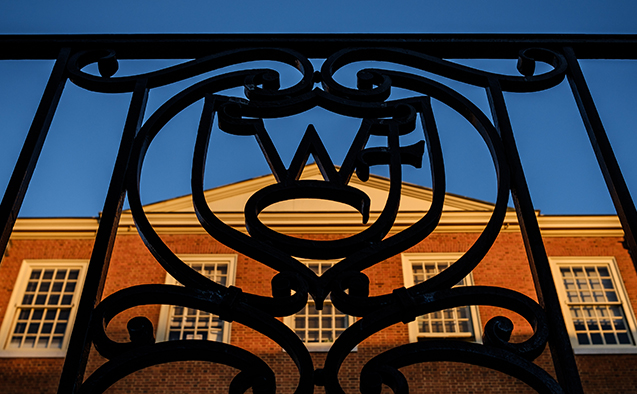 The WFU Awards and Recognitions briefs celebrate milestones of faculty, staff and students at Wake Forest.
WFU awards highest honor to Winston-Salem's Dr. Larry Hopkins and Asheville attorney Lou Bissette
The Medallion of Merit, Wake Forest's highest honor, was awarded to two University Trustees – Dr. Larry Hopkins and Lou Bissette – at the University's Founders' Day celebration on February 20. Dr. Hopkins graduated from Wake Forest in 1972 and Wake Forest School of Medicine in 1977. Following his residency, he practiced obstetrics and gynecology. In 1994, he became the co-director of Winston-Salem's newly-created Women's Health Center, which focused on improving prenatal care and reducing infant mortality rates. Bissette graduated from Wake Forest in 1965. He began his legal practice with the Asheville firm of McGuire, Wood & Bissette, where he continues today, concentrating in the areas of land use, zoning, economic development and corporate law. He has been instrumental in facilitating economic growth in Asheville, North Carolina.
WFU sophomore earns Brooke Owens Fellowship
Wake Forest sophomore Lainey Drake is one of only 40 women to earn a Brooke Owens Fellowship, which awards a paid summer job at one of the most sought-after companies in aviation or space exploration. The fellowship supports exceptional undergraduate women and gender-minority students interested in careers in the aerospace industry – where only 15% of employees in the field are female. This summer, Drake will help pioneer commercial space travel as an engineering intern at Virgin Galactic. Drake, a physics and theatre double major, is from Suffolk, Virginia. 
"Father-Daughter Relationships" named a Best New Fatherhood book for 2020
Book Authority has named "Father-Daughter Relationships: Contemporary Research and Issues" among the best new books on fatherhood for 2020. The author, Linda Nielsen, is a nationally renowned expert on father-daughter relationships and shared physical custody for children of divorce. She is a professor of adolescent and educational psychology at Wake Forest University. For more than 25 years, Nielsen has taught the only known college class in the U.S. devoted exclusively to father-daughter relationships. Book Authority identifies and rates the best books in the world, based on public mentions, recommendations, ratings and sentiment.
WFU seniors recognized for speeches
Three Wake Forest seniors were selected as winners of the University's Senior Orations competition. Celia Zhou, from Cary, North Carolina, won for her speech "Living and Loving the Question." Dylan King from Walnut Cove, North Carolina, won for his speech "Camaraderie in the Lounge," and Grace Franzese from Greenlawn, New York, won for "Building Community." Zhou presented her oration during Wake Forest's Founders' Day Convocation on February 20.
Categories: Top Stories
Subscribe
Sign up for weekly news highlights.
Subscribe