Main Content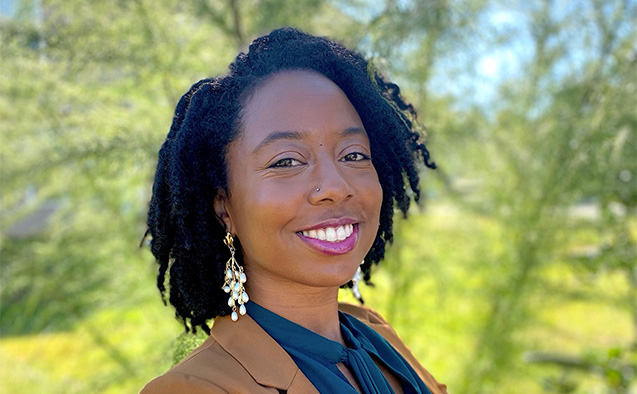 A woman who hopes to bridge the gap between academia and the community and has a passion for contributing to the advancement of Black people has been hired as the new assistant director of the Center for Research, Engagement and Collaboration in African American Life, or RECAAL.
Camaron Loritts, a second-year PhD student in Educational Studies, with a concentration in Cultural Foundations at UNC Greensboro, will assume her duties beginning today.
Loritts, from Conover, North Carolina, said she is thrilled to integrate into the culture of the University and to officially become a Demon Deacon. She looks forward to "bringing a diverse, fresh perspective to the campus."
The Center for Research, Engagement and Collaboration in African American Life was established to give critical, intellectual voice to the experience of African Americans through research-driven initiatives, programming and community facing work. School of Divinity Associate Professor Derek Hicks is the director of the Center, which will offer the campus and Winston-Salem residents symposiums, faculty seminars and a lecture series.
"I feel strongly that she'll connect well across the campus with different constituencies and be vital in the Center's efforts to create partnerships." Derek Hicks, director of RECAAL
In her new role, Loritts will assist Hicks with securing external partnerships while advancing the Center's goals.
"I think the Center will be a trailblazing force that will help bridge the gap between academia and the community, as well as assist folks that are actively doing that work," she said.
"I'm excited to amplify Black voices and engagement within the campus and the Winston-Salem community through innovative programs and liberating collaborations." Camaron Loritts
"My plan is to hit the ground running with planning and operations to begin executing the vision," she said.
The Center has several initiatives planned for next semester, including supporting Assistant Professor of Education Danielle Parker Moore on a local research project in partnership with the Forsyth Family Power, which bills itself as a think-and-do tank led by families of students attending Title 1 schools in the Winston-Salem/Forsyth County Schools district. Plans are to research the impact of training parents as community-based researchers in creating action plans to improve educational opportunities for students attending local Title 1 schools.
The Center will also partner with Not Impossible Labs to run a long-term pilot of their Bento program, which seeks to eradicate hunger and food insecurity through an app-based platform. Researchers will work with a control group to assess outcomes for those who utilize the app, to determine how consistent access to food for those previously struggling with food insecurity changes their physical and social outcomes.
As part of its Black Entrepreneurs, Innovators and Business Leaders Series, the Center will host producer and writer Randy Huggins, co-executive producer and showrunner of the new Starz series BMF. Huggins has also served as a writer and producer on several other shows, including Power, Rebel, Star, The Shield and Criminal Minds. In April, Dawn Davis, editor-in-chief of Bon Appétit magazine, was the inaugural speaker in this series.
"I'm excited about Camaron working with me to enhance what the Center offers to the Wake Forest community and Winston-Salem as a whole," Hicks said. "We have several key events under development for the spring semester, and I am confident we will secure key partnerships with various organizations and groups in the area."
To interview Loritts or Hicks, please contact media@nullwfu.edu or Laurie D. Willis at willisla@nullwfu.edu, 336.549.1994.
Categories: Staff, Top Stories, Valuing Diversity
Subscribe
Sign up for weekly news highlights.
Subscribe