Main Content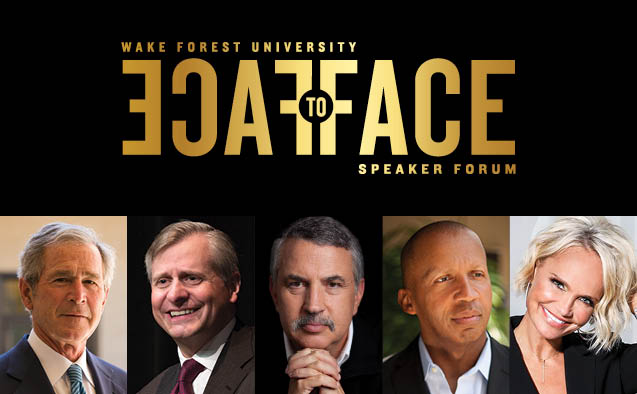 George W. Bush, 43rd President of the United States and Presidential historian and Pulitzer Prize-winning author Jon Meacham will share the stage for an exclusive conversation on our nation's challenges. 
This ticketed event will be held on Wednesday, Sept. 14, at the Lawrence Joel Veterans Memorial Coliseum (LJVM) at 7 p.m. Single tickets are available here. 
Bush is an American politician and businessman who served as the 43rd president of the United States from 2001 to 2009. A prolific painter, his most recent collection of works, "Out of Many, One" includes 43 portraits highlighting America's immigrants and their contributions to America.
Media coverage is not permitted at the Face to Face Speaker Forum main event at 7 p.m.
Media are invited to cover the special event on Sept. 14 in Wait Chapel at 4:30 p.m. where students from WFU's School of Business will moderate a Q&A discussion with Jon Meacham. Wake Forest University students and students from all Winston-Salem area schools are invited to attend this special Face to Face hosted student event at no cost.
The community-facing Face to Face Speaker Forum brings world-renowned, influential voices to Winston-Salem to discuss topics in a variety of areas including politics, arts and culture, business and social justice. 
This Face to Face Speaker Forum is presented by Wake Forest University's Allegacy Center for Leadership and Character. A complete list of Face to Face Speaker Forum sponsors is available here.
Categories: Events, Top Stories