Main Content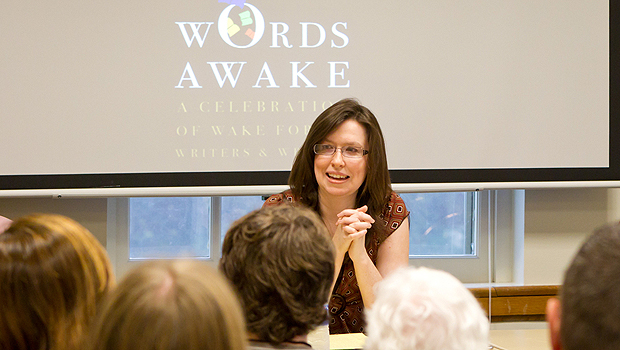 When pursuing a dream of writing for a living, getting good advice and making connections are essential.
Senior English major Morgan Schutte did both when she served as student ambassador for during Words Awake, a celebration of Wake Forest University writers and writing held March 23-25 that drew more than 250 people to campus for discussions, networking and readings.
Read more about how WFU writers interacted with campus and community, plus some of the weekend's best quotes »
---
Fifteen alumni have been installed as the inaugural inductees into the Wake Forest University Writers' Hall of Fame during the Words Awake! conference banquet on campus on Saturday, March 24. See more about each inductee on the Words Awake! site »
Also:
---
Silk maps, B-24 bombers and avoiding anachronisms were the hot topics during Laura Elliott's visit to Northwest Middle School in Winston-Salem. Elliott, a 1979 Wake Forest graduate who writes young adult historical novels, mixed WWII history with writing advice in conversations with 6th, 7th and 8th graders as part of Words Awake! A Celebration of Wake Forest Writers and Writing on campus March 23-25.
She was among 18 Wake Forest graduates who visited local schools to share their enthusiasm for writing. Read more »
---
Words Awake!, the three-day symposium showcasing Wake Forest's literary legacy, launched with a spectacular start Friday evening when Tom Hayes ('79) premiered his documentary film, "Editor Uncut," about his father, Harold Hayes ('48), who as editor of Esquire (1963-1973) marshaled the talent that established the magazine as the disquieting mirror of its age.
"It is fitting that the film should be shown at Wake Forest University first," said Tom Hayes, "because my father had such a close connection to college. He attributed almost everything he became to Wake Forest." Read more »
Also: "Son's documentary focuses on Harold Hayes' work at Esquire" (Winston-Salem Journal)
---
Preview coverage
---
Storify
Follow the event through a Storify from the Wake Forest News Center:
[wfu_storify username='WakeForestNews' slug='words-awake' title="Words Awake!"]
Categories: 2012 Highlights: Arts, Alumni, Arts & Culture, Community, Events, For Alumni, For Parents, Humanities, Speakers, Top Stories
Subscribe
Sign up for weekly news highlights.
Subscribe