Main Content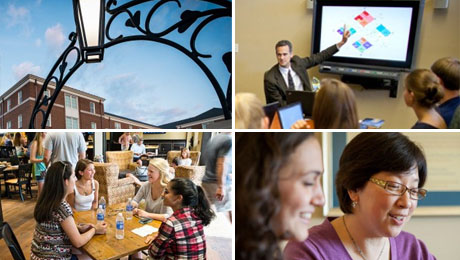 Wake Foresters had a knockout year. From celebrating world-class rankings to achievements in the classroom, across campus and abroad, the University continues to inspire and impact the world.
WFU's new rankings

U.S. News and World Report's 2014 Best Colleges guide ranked Wake Forest 23rd among 281 national universities — the highest ever ranking for the University. The guide also ranked Wake Forest 11th on its "Strong Commitment to Teaching" list.

Wake Forest is one of the nation's "Best Value" colleges and universities according to The Princeton Review. The 2014 list, which features 150 schools in all — 75 public and 75 private colleges and universities — was announced today.

Wake Forest's School of Business and School of Law both placed highly in U.S. News & World Report's rankings of graduate schools released March 11.
.
A new way to celebrate teaching

To celebrate Wake Forest's ranking 11th in U.S. News and World Report for commitment to undergraduate teaching, students launched an "11 Days of Teaching Appreciation" social media campaign.
New to the classroom

A new masters program created by Wake Forest's Center for Energy, the Environment & Sustainability (CEES) will give students and early career professionals the diverse skill set they need to carve out a place in the burgeoning global sustainable business market.
New on campus

Zick's, the newest social and dining destination on campus, is a place for students, faculty and staff to unwind. The space is conveniently located on the first floor and basement levels of Poteat Residence Hall, right off Hearn Plaza.

Stand in the courtyard between Wake Forest's Dogwood and Magnolia Halls and look south. The view of the iconic Wait Chapel, framed on either side by the recently completed buildings, is jaw-dropping. The mirror image Dogwood and Magnolia are the newest residence halls on campus.

Surrounded by friends, family, fellow donors and members of the Wake Forest community, University Trustee Mary Farrell (P '10) helped dedicate Farrell Hall, the new home for the Wake Forest School of Business.

For coffee, lunch, dinner or a late-night study session, North Dining Hall is the newest gathering place on campus. The two-story, 21,000 square-foot dining facility opened this week.
Wake Will, a new impact

Wake Forest University launched "Wake Will: The Campaign for Wake Forest" — the largest fundraising effort in the University's history. Wake Forest and Wake Forest Baptist Medical Center will significantly increase our impact on our region, the nation and world by investing $1 billion.
A new invention
After graduation, seniors Jesse Konig, Jack Zimmermann and Ben Johnson are taking their dogs to D.C. — their hotdogs. The grads are launching a food truck to sell their innovative Swizzler.
Seven new adventures

Trekking to a Buddhist temple in the Himalayas as part of Wake Forest's study abroad program in India sparked Jessica Argenti's love for forging new cultural understandings. She and six others have earned Fulbright scholarships in countries around the world.
Categories: Admissions, Campus Life, School of Business, School of Law, Top Stories, Wake Forest College
Subscribe
Sign up for weekly news highlights.
Subscribe