Main Content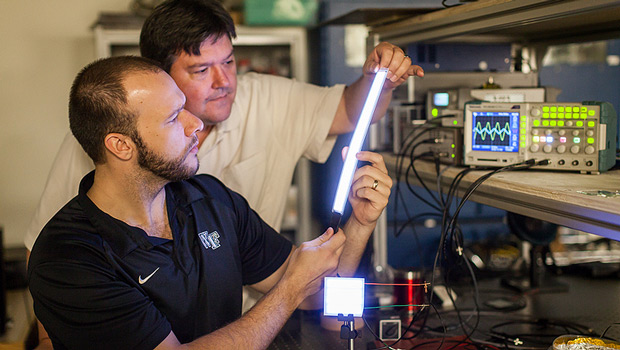 Wake Forest is pushing the envelope on cutting-edge research. From a new kind of light bulb to mapping the landscape of leaders' brains, technologies developed by Wake Forest researchers during the 2012-2013 academic year are redefining how we think about everything from ecology to economics.
Say goodbye to that annoying buzz created by overhead fluorescent light bulbs in your office or residence hall. Wake Forest scientists have developed a flicker-free, shatterproof alternative for large-scale lighting.
"People often complain that fluorescent lights bother their eyes, and the hum from the fluorescent tubes irritates anyone sitting at a desk underneath them," said David Carroll, professor of physics and director of the Center for Nanotechnology and Molecular Materials. "The new lights we have created can cure both of those problems and more."
The team uses a nano-engineered polymer matrix to convert the charge into light. The technology allows the researchers to create an entirely new light bulb – overcoming one of the major barriers in using plastic lights in commercial buildings and homes.
Their work was featured by leading national and international news outlets such as Popular Science, BBC and the Christian Science Monitor.
With 41 states having reported widespread and severe outbreaks of flu this season, timely new research sheds light on why less than half of the American population has gotten a flu shot.
Using an online computer game that simulates the spread of an infectious disease among its players, researchers at Wake Forest learned more about what motivates people to protect themselves from infection – from the flu to whooping cough.
The research, the first in the economics of disease control using virtual diseases, was conducted by economists Fred Chen, Allin Cottrell and Amanda Griffith, and computer scientist Yue-Ling Wong.
Their work was featured in the Washington Post and other prominent publications.
Most people think global warming threatens polar bears and Emperor penguins in the freezing Arctic. However, Professor of Biology and Director for the Center for Energy, Environment and Sustainability Miles Silman believes that climate change is likely to have just as great an impact, maybe even a greater one, in the tropics.
His research tracked how temperature increases in Peruvian cloud forests, will create "novel climates' of a sort that probably haven't been seen on earth in millions of years."
Researchers at Wake Forest's Organic Electronics group have come up with a novel solution to one of the biggest technological barriers facing the organic semiconductor industry today. Oana Jurchescu, an assistant professor of physics, and a team of researchers developed a high performance organic semiconductor 'spray paint' that can be applied to large surface areas without losing electric conductivity.
The technology is a big step towards realizing futuristic devices such as transparent solar cells on building windows, car roof and bus stations, electronic displays in previously inaccessible spaces and wearable electronics due to the organic plastics' thin, lightweight and conformal nature.
Jurchescu's work was featured in a variety of technology and science publications like TechNews Daily, e! science news, and R&D Magazine, as well as the Winston-Salem Journal and Triad Business Journal.
Timo Thonhauser, assistant professor of physics, has taken on one of the toughest problems that stands in the way of making hydrogen cars a reality: hydrogen storage. Hydrogen has shown great promise as an alternative fuel. It is the most abundant element on the surface of Earth, and every nation has access to it. One pound of hydrogen has about three times as much energy as one pound of gasoline, and seven times as much energy as one pound of coal. But even better, when hydrogen combusts, the only byproduct is water.
"So, if hydrogen is so cool, why aren't we using it? It's because we don't know how to store it in a practical way," Thonhauser said. "There's no question that fossil fuels are going to run out eventually. Plus, the combustion of fossil fuels creates a lot of problems for the environment. Research into alternative fuels is vital right now."
His research is supported by the most prestigious award the National Science Foundation has to offer for young scientists – the NSF CAREER Award – given to a select few junior faculty nationwide who excel as teacher-scholars.  As reported by the Charlotte Observer and Winston-Salem Journal, the award comes with a $426,572.00 grant, which Thonhauser will use to determine whether any of three materials – magnesium borohydride, ammonia borane, and special alkanes – could be used to create a safe and efficient storage solution for hydrogen.
The ultimate goal of computer science professor Jennifer Burg's research is to determine whether using a hands-on topic like music could help her teach complicated computer science topics such as algorithms, abstraction and programming languages. She worked with Jason Romney of the University of North Carolina School of the Arts and sound designer and audio engineer Eric Schwartz, on a study entitled "Computer Science 'Big Ideas' Play Well in Digital Sound and Music." The study was funded through two National Science Foundation grants totaling $690,638.
Sean Hannah, Tylee Wilson Chair of Business Ethics and Professor of Management in the Wake Forest School of Business, and a team of researchers have found measuring activity in the prefrontal cortex of the brain can help assess that person's potential for leadership – which could have a big impact on how future leaders are tested and trained.
Hannah and four colleagues tested 103 young military leaders between the ranks of officer cadet and major at a U.S. Army base on the east coast. They administered psychological exams to assess the complexity of leaders' identities, and neurological exams to assess the complexity of soldiers' brain activity. Hannah and his fellow researchers wanted to know if great leaders had more complex brains – measured by the electrodes which reported which parts of the brain were firing together at the same time. A low complex brain shows more areas of the brain operating at the same time at the same electrical amplitude and frequency – which suggests those areas converge to process the same task leaving fewer brain resources for other tasks and processes. It's a process called "phase lock."
Their work was featured in Live Science, the London Daily Express and the London Daily Mail.
A team of physicists at Wake Forest University have developed a technology called Next-Gen Lab-on-Bead. The tool uses next-generation genetic sequencing to make the drug development process thousands of times faster, much like a Google search.
The National Institutes of Health has awarded the team a $700,000 grant to bring Next-Gen Lab-on-Bead to market.
The research team, led by Keith Bonin, Jed Macosko and Martin Guthold of the physics department, also recently received a two-year, $160,000 Collaborative Funding Grant from the North Carolina Biotech Center to refine Next-Gen Lab-on-Bead for commercial use.
"We can do millions of sequencing actions in unison to find a possible drug to treat a specific disease," Guthold said. The team's work was featured in the Drug Discovery Journal, Triad Business Journal and the Winston-Salem Journal.
Knee osteoarthritis is a debilitating yet common ailment for older Americans that makes physical activity both difficult and painful. More than 4.5 million Americans have had knee replacement surgery due to knee osteoarthritis. The procedure is expensive – often costing more than $20,000 per knee – and may not be necessary for everyone.
A new study at Wake Forest is developing a surgery-free and effective option to treat knee pain and loss of mobility associated with knee osteoarthritis. The work could help millions of Americans over the age of 55 live healthy, happier lives, as chronicled in this cover story in the Winston-Salem Journal.
New research from Wake Forest University could signal a major breakthrough in the treatment of prostate cancer, the second leading cause of cancer death in American men.
George Kulik, an associate professor of cancer biology, Mark Welker, the William L. Poteat Professor of Chemistry, and Freddie Salsbury, an associate professor of physics, led an interdisciplinary team with expertise in computational physics, synthetic chemistry and cancer biology in the development of a new drug that is more effective than contemporary treatments. Their work was featured on the cover of the Nov. 26 issue of the Journal of Medicinal Chemistry.
As Congress considers comprehensive immigration reform, new research by assistant professor of sociology Hana Brown shows the language used in the immigration debates can be as important as the legislation and can have long-term effects on other policies.
"Most of our attention is going to be on the laws up for debate," Brown says.  "My study suggests that we should also pay close attention to the language political leaders use to justify those policies, in particular which groups they say are deserving and undeserving of different rights."
Her new study, published in the The American Sociological Review, shows that in Arizona and California during the 1990s, the tenor of earlier immigration debates directly affected welfare reform battles later. Her research and her classes bridge the space between politics and sociology.
When Linda Tuttle was diagnosed with breast cancer, she never imagined her experience would inspire her colleagues to design new treatments to tackle the disease.
A staff assistant in the chemistry department, Tuttle was more accustomed to talking to faculty and staff about meetings and course loads – not doctors' appointments and treatment plans.
But after her 2009 diagnosis, Tuttle's use of tamoxifen, a drug commonly used to treat breast cancer, inspired medicinal chemist Uli Bierbach and graduate students Song Ding and Xin Qiao to develop a targeted therapy that delivers a sneak attack to the disease – similar to a Trojan horse – in the spirit of Pro Humanitate.
Categories: For Alumni, For Parents, Research, Top Stories, Wake Forest College
Subscribe
Sign up for weekly news highlights.
Subscribe