Main Content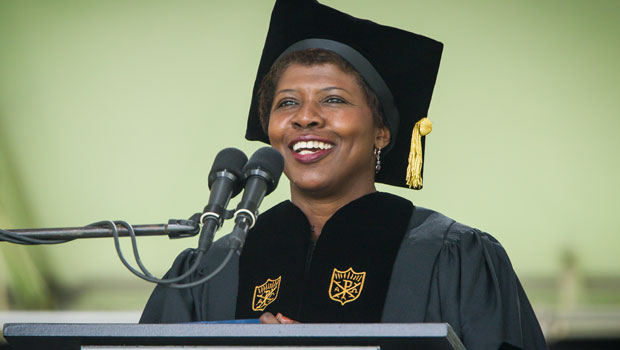 From Commencement and campus facilities to scholarships and rankings, here is a countdown of the top-10 most viewed Wake Forest stories of 2013.
No. 10: Ifill to speak at Commencement
Gwen Ifill, moderator and managing editor of "Washington Week" and senior correspondent for the "PBS NewsHour" delivered Wake Forest's 2013 commencement address in May. Ifill has covered six Presidential campaigns and moderated two vice presidential debates. She is also the best-selling author of "The Breakthrough: Politics and Race in the Age of Obama." A video of Ifill's speech is available here.

No. 9: Meet in the middle at Zick's
Walk by Zick's and you will likely hear popular music playing, smell pizza baking in the oven and spot friends playing pool, foosball or watching a game on one of the large television screens. Located on the first floor and basement levels of Poteat Residence Hall, Zick's offers pizza, wings, salads and beverages. What makes this dining spot different? With only a few power outlets, Zick's intentionally creates a place to "unplug" and socialize.
No. 8: Fifteen grads to start careers here
In May 2013, as most seniors prepared to leave Wake Forest to begin jobs, attend graduate school and go on service trips, a small group of talented students decided to start their careers here, at "Mother, So Dear." After commencement, 15 recent graduates accepted positions as Wake Forest Fellows — working across the University in admissions, information system and advancement, to name a few. Read more about the Wake Forest Fellows program here.

No. 7. A 'Good Character" summer reading list
Can you become more honest, courageous or kind by reading a book? Christian Miller, director of The Character Project at Wake Forest University, recommended six new books and three essays that reveal surprising truths about character and how to improve it. These books and essays don't contain a magical secret formula to make you a better person overnight, but they do offer practical insights about character and ideas for applying them.

No. 6. So your doctor majored in history
The Association of American Medical Colleges announced this year that the Medical College Admission Test (MCAT) in 2015 will include a new behavioral sciences section — a step that recognizes the importance of the humanities to the future of medicine. But why would you want your next doctor to have majored in English or philosophy or classics? The story highlights Wake Forest's new Interdisciplinary Humanities Pathway to Medicine Program that offers guaranteed admission to Wake Forest Medical School for up to five undergraduates majoring in the humanities or fine arts.

No. 5. Magnolia Scholars receives $6.5 million
Dr. Steven and Becky Scott committed $6.5 million to further the education of first-generation college students through Wake Forest's Magnolia Scholars program. The majority of the gift will fund scholarships for students who are the first in their families to attend college. The gift is the second largest commitment to scholarships by individuals in Wake Forest's history.

No. 4. Wake Forest named best value
Wake Forest was named to The Princeton Review's annual list of "Best Value Colleges." The Princeton Review 2013 "Best Value Colleges" highlights 150 undergraduate schools: 75 public and 75 private institutions, based on more than 30 data points covering academics, cost and financial aid.  In each group, The Princeton Review ranks the top 10 schools. The remaining 65 schools in each group are reported in alphabetical order, unranked
No. 3. New living area is a dynamic duo
Two new residence halls offer a mix of suites with double and single rooms for approximately 480 upper class undergraduate students. Each suite houses four to eight students. The rooms feature everything from motion and heat activated lights to reconfigurable couches and computer chairs that can be detached from their base and placed pretty much anywhere. Both buildings were designed with input taken from student focus groups and an administrative and student committee.

No. 2. Bringing new life to dead language
This story about students role-playing in class gained traction on social media — especially with gamers. In a Latin prose class, each student chose a character, wrote spells, mapped a dungeon and earned grades by moving up levels. And they learned to write Latin. It sounds like Dungeons and Dragons, but it's not. Each student plays a hero from Graeco-Roman myth with a backstory, personality and actions determined largely by the student. Over the semester-long journey the players face obstacles, challenges and opportunities both independently and as a group. And they learn to write Latin.

And the No. 1 story… U.S. News ranks Wake Forest in top 25 national universities
U.S. News and World Report's 2014 Best Colleges guide ranked Wake Forest 23rd among 281 national universities — the highest ever ranking for the University. With its small classrooms, cutting-edge research labs, and faculty who are dedicated to excellence in both teaching and research, Wake Forest has been ranked in the top 30 in the national universities category for 18 consecutive years. It is the fifth time the University has been ranked in the top 25.
Categories: Alumni, Campus Life, Faculty, For Alumni, For Parents, Speakers, Student, Top Stories, Wake Forest College
Wake Forest in the News
Wake Forest regularly appears in media outlets around the world.